u-he has announced an update to the Hive 2 software synthesizer instrument. Version 2.1 comes with 4 new filter types, support for the latest Apple macOS and M1 hardware, 100 additional presets, an alternative skin by Plugmon, and more.
How about some serious new synthesis 'grunt'? The added filter types are various flavours of comb including polyphonic reverb (!) as well as a sideband filter for ring-mod-like effects and other complex tonal colours. You can use the new filter 'Spread' (hidden parameter) to create immersive stereo in all filter modes, and the extra modulation source 'Mod Noise' lets you inject swirly organic magic into the cleanest of patches… try modulating one with the other!

The browser now features 'Bank' folders, which already list the factory presets by origin (the 100 new presets appear in the "Hive Factory 2.1" bank). Users can create custom banks via drag & drop, for instance all the Hive sounds you have used in one particular track.
Version 2.1 also includes other workflow-related options, such as Scope viewing of modulation matrix outputs and the radically different alternative skin by Plugmon called 'Izmo', which you can see below.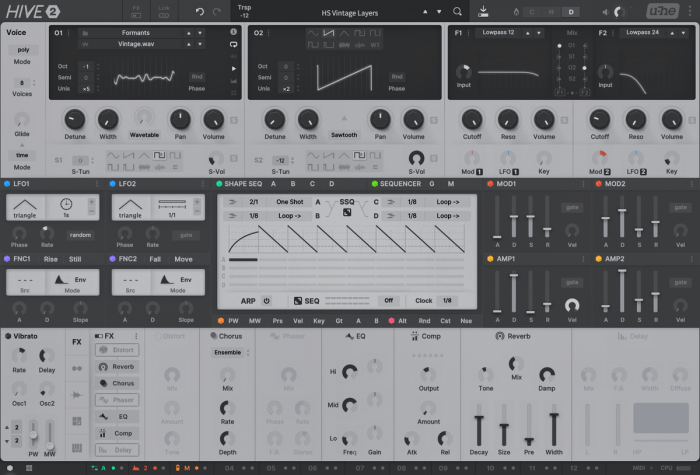 Changes in Hive 2.1
macOS 11 (Big Sur) compatibility, native support for Apple Silicon (M1 CPU).
macOS 32-bit support discontinued.
100 additional factory presets.
Simplified soundset installation.
New smart folder type 'Bank': origin of presets or custom collections.
4 new filter modes: Comb, Dissonant, Reverb, Sideband.
4 new filter modulation targets: Spread, Damp, Ratio, Mix.
New delay & reverb modulation targets: Pan.
New Shape Sequencer targets: Position A/B/C/D.
New shape sequencer option: 'Halt'.
New modulation source: 'Mod Noise'.
The scope can now display modulation matrix outputs.
Alternative skin 'Izmo' by Plugmon.
New scale quantizer menu with 15 scale options.
Improved hold pedal and note-stealing behavior.
The update is free for all current Hive 2 owners.
Priced 149 EUR, new users can purchase the plugin at u-he or from distributor Plugin Boutique. A free trial version is available to download for Windows, Mac and Linux.