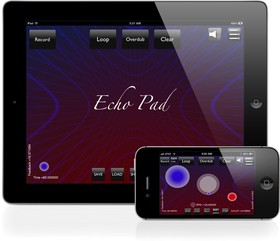 Holderness Media has released Echo Pad, a real-time echo effect processor for iOS, featuring a unique delay and sound on sound looper controlled by a multi-touch XY interface.
Use the built in mic on your headphones, plug in a guitar, microphone, synth, drum machine, iOS device, or whatever you want using an audio interface such as the Apogee Jam or MIC, or one of the many other compatible iOS and USB audio interfaces. (Verified up to date list of compatible audio interfaces below.)

Echo Pad was born out of love for tape echoes, sound on sound loopers and noisy, dirty analog delay pedals. Echo Pad excels at hands on warping delay tones and controlled feedback, and is not afraid to get loud.
The app is available to purchase for the introductory price of $2.99 USD.
More information: Holderness Media / Echo Pad