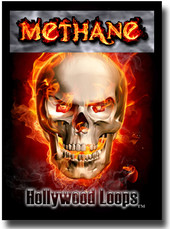 Hollywood Loops has launched its website with the release of Methane, a collection of cutting edge high definition music and sound FX loops for use in film, television, game composing, and all other music productions.
METHANE is the first in a series of THREE new products that are a perfect addition for anyone wanting to add a perfect selection of Loops or Sound Fx to any Film, Trailer or Music Production.

This DVD contains over 3.2 Gig of files perfectly formatted for REX2, Apple and WAV…Also contains KONTAKT combinations precisely mapped out to add to the performance element and also will sync in tempo to your favorite DAW program. *Requires KontaKt 3.5 or higher*
Methane is available to purchase on DVD for $99.99 USD.