Homegrown Sounds has released version 1.1 of Cassetto, a cassette based synthesizer instrument for Native Instruments Kontakt.
Cassetto uses sampled oscillators with waveforms from the Analogue Four synth by Elektron, recorded onto an old and well worn cassette.
The update includes a version for Kontakt 5.5, a collection of additional single cycle waveforms, and some improvements and fixes.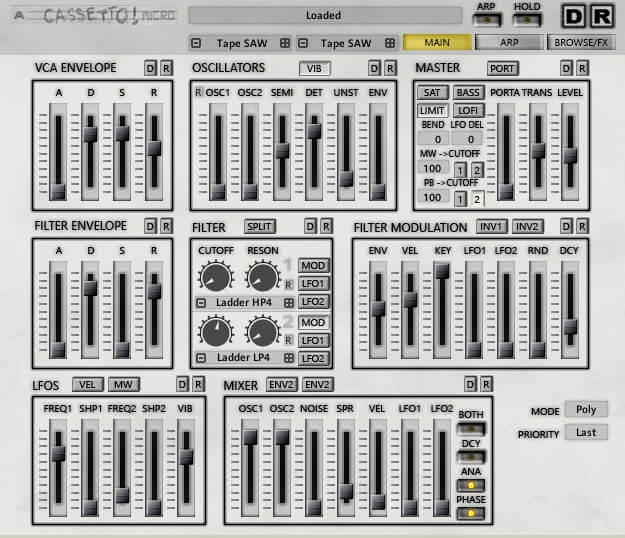 Cassetto gets a major update, most importantly a few people requested a version for Kontakt 5.5 and so Micro Cassetto is born. It is functionally identical to Cassetto but uses Panels.

There are also an additional 63 hand crafted Single Cycle Waveforms, after making presets with the existing single cycles I wanted to expand the digital side of the synth. It has increased the amount of sounds it can make extensively.
Changes in Cassetto v1.1
Added Micro Cassetto, a smaller version which is identical feature-wise yet compatible with Kontakt 5.5.
63 Digital Single Cycle Waveform Added.
Added some Dotted Tempo values to ARP Tempo.
Fixed an issue where HOLD and As Played didn't work correctly.
Increased ARP Length to 300%.
Decreased CPU Usage significantly and raised Polyphony to 64.
Improved GUI slightly.
Fixed an issue with Automation in Ableton Live.
A few more presets demonstrating the new Waveforms.
Cassetto is available for purchase for just $14.99 USD as part of a group buy (regular $59.99 USD). As more participants join the group buy, free bonus items are unlocked. The group buy ends October 31st, 2016.
More information: Homegrown Sounds