Homegrown Sounds has launched a new version of the Cassetto synthesizer instrument for Native Instruments Kontakt.
Cassetto uses the Elektron's Analog Four for the oscillators, recorded note by note over 4 octaves onto a very old and well worn cassette. Cassetto DND is identical to the Kontakt 6 version of Cassetto except it contains absolutely no samples other than White Noise.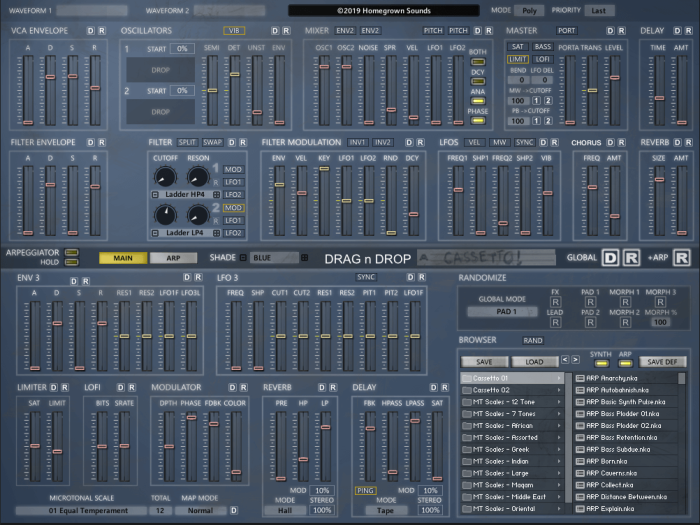 It relies completely on Drag and Dropping your own samples into the 2 Oscillator slots. This has been requested by a couple of people and as a result it provides an easy way to use your own samples in this sophisticated Synth engine.

Additionally, 500+ Morph WAVs are also included as a bonus ready for Dropping!
Cassetto DND is available for $19.99 USD. All sales will add to the Serenity Group Buy membership number.
This years Group Buy explores the Wavetable Oscillators introduced with Kontakt 6. The aim is to explore different approaches to utilizing them in interesting ways. There will also be 1000 unique Wavetables developed exclusively for the Group Buy which are Serum compatible. There will also be a couple of Midi Instruments as well as an Euclidean Drum Machine.
You can join the Group Buy for $24.99 USD.
More information: Homegrown Sounds