Homegrown Sounds has released HGS WAV Recorder X, a VST plug-in which adds advanced features to the freeware HGS WAV Recorder.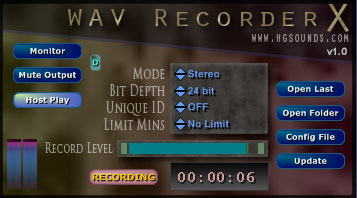 The main new feature is the ability to do multiple simultaneous recordings throughout the host, either when record is enabled or a second mode allows it to only record whilst the host is in playback mode. A usage example is that you could put a recorder on insert strips of multiple channels, start playback and record each track to a seperate WAV which would all be synchronised. This is ideal for recording many tracks in a project simultaneously and in realtime, ready to import into a different sequencer.
HGS WAV Recorder X features
16/24/32 Bit Support.
Records at Host Projects Sample Rate.
Record in Host Play Mode only.
Auto ID/Selectable ID per instance.
Time Limited Recording up to 24 hours.
Mono, Stereo and Sum Output Modes.
Monitor Switch.
Bypass – Disables Sound output for silent recording.
Record Level.
Record Level Indicators.
Open Last Recording Button.
Configurable Storage Directory – Open cfg file to change path, then click update to update the path.
Open Recording Directory in Windows Explorer.
Default – Sets to the plugins default parameters.
HGS WAV Recorder X is available as a VST instrument for Windows PC and costs £15 GBP.
Visit Homegrown Sounds for more information.