Homegrown Sounds has released Homegrown Piano, a VST instrument based around 88 samples of a Steinway B Grand Piano which were recorded at medium velocity.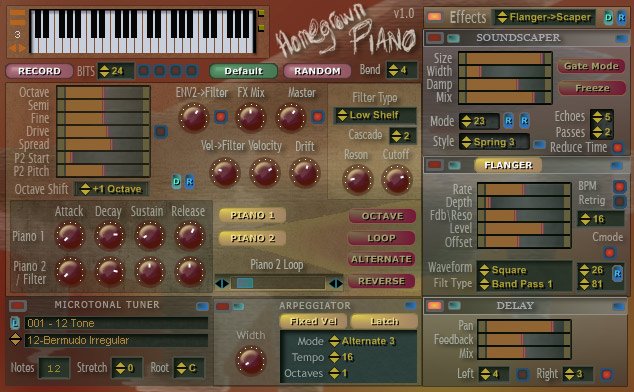 It was developed like many other HGSounds products to be great for Ambient/Atmospheric music, though is useful as a standard Piano as can be heard with the Classical demos on the website. The 128 presets cover a diverse range of sounds from Standard, Honky Tonk, Bright, as well as many echo landscapes, high resonance/distorted, and synthetic instruments. Though it is primarily designed as a Piano, it is still a synthesizer at heart and as a result has plenty of experimental potential.
Homegrown Piano features
Dual Piano Layers – The 2 layers use 88 x 16bit 48k samples, one for each note.
Filter – Cascadable up to 8 times and includes Low Passes, Hi Passes, Band Passes, Comb, Low Shelf, Hi Shelf and Peak.
2 ADSR Envelopes – Simple Envelopes. Envelope 2 can either be used to control Piano 2 volume or used to shape the Filter Cutoff Frequency.
Drive – Auto Volume Distortion
Arpeggiator – With many modes include classic Arp modes.
Microtuner – Microtuner uses most standard Scala files of any size for custom tunings
SoundScaper – Comb / Delay / Reverb Effect for creating interesting soundscapes.
Flanger/Filter – Switchable between Flanger and Filter effect, LFO has over 300 predefined shapes with smooth control as well as standard shapes.
Stereo BPM based Delay – Synced delay.
FX Routing – 3 different Paths available.
Drift – Adds a random pitch detune with each note played.
Stereo Spread – Allows setting a random value to the Pan of each voice.
Recorder – Allows recording directly to disk at 16/24/32 bits. Wavs are auto-named by date and location is set via a config file.
Limiter – Output is limited to prevent clipping.
Default – Sets Piano to default settings
Randomize – Randomizes all settings. There are also local randomizers in each section.
Homegrown Piano is available as a VST instrument for Windows PC for the introductory price of £25 GBP.
Visit Homegrown Sounds for more information and audio demos.