Homegrown Sounds releases Soundscaper, a VST effect plug-in for Windows capable of reverb, echo and comb effects.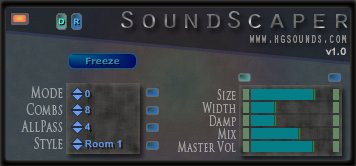 It was designed primarily as way of creating atmospheric landscapes in the tradition of the HGSounds ethos. It has almost infinite feedback time for many modes, and so is capable of producing rich and complex drones when used with a continuous sound source. It can also be used as a traditional reverb or echo suitable for any application.
Soundscaper features
300 different Timing Models.
Number of Combs switchable between 1 and 8.
Number of Allpasses switchable between 0 and 4.
33 Styles which multiply the selected Mode Timings by increasing amounts.
Size – Sets the feedback level of the Effect.
Width – Sets the Stereo Spread of the Effect.
Damp – Sets how much the signal is damped.
Mix – Sets level between Dry and Wet.
Master Volume – Sets the Master Output Level.
Randomizers – A master Randomize for complete Randomization as well as local randomizers.
Default – Instantly sets the patch to its default parameters.
Freeze – Will Freeze the output when clicked, Dry signals pass through.
SoundScaper is a free VST plugin, but as ever donations are much appreciated if you find the plug-in useful. A second version with the ability to set timings manually will be available soon.
Visit Homegrown Sounds for more information.