Homegrown Sounds has released a public beta version of TerraNova, a multi effects plug-in which has 5 main effects.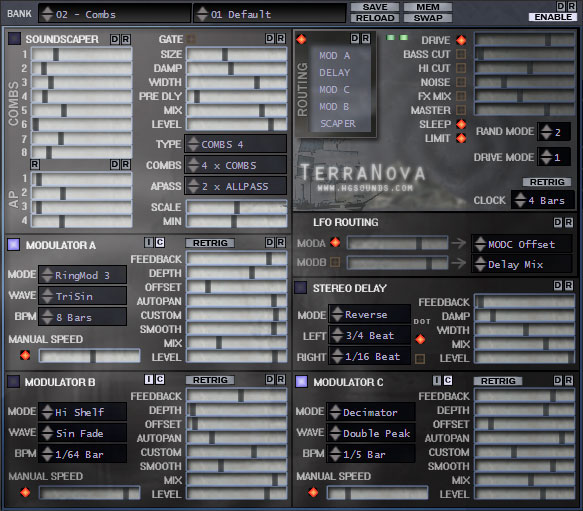 TerraNova has been under development for other 4 months, and once it is finished, I'll be starting to build a synth using it as it's FX engine. I have developed a new preset system so that presets will be universal amongst future products and interchangeable.
TerraNova features
SoundScaper, capabable of reverb, echo and comb effects.
Stereo Delay, with various modes.
3 Modulators, with 39 different effects each including Flanger, Phasers, Ring Modulators, Chorus, FM Chorus, Synth Tones, Filters, Pitch Shifters, Gappers and Decimator.
Each LFO has a large array of waveforms, including custom mode which gives access to 150 pre-defined shapes with smooth control.
As well as random mode, there is also an assortment of Envelope Followers that can be used instead of the LFO. Each modulator also has an AutoPanner.
Many randomization options as well as global randomize, which has 10 modes.
Flexible routing, can be switched off to work in parallel. There is also a randomizer.
Extensive PDF Manual.
5 types of distortion.
White Noise.
Bass Cut, High Cut.
Modulators A and B can also be assigned to one of 34 destinations.
TerraNova (pre-release) is currently available to purchase as a VST effect plug-in for Windows PC for £20 GBP. A VST/AU release for Mac is coming.
More information: Homegrown Sounds