Homegrown Sounds has released HGS WAV Recorder, a simple plugin that performs a single role, recording the incoming signal directly to a WAV.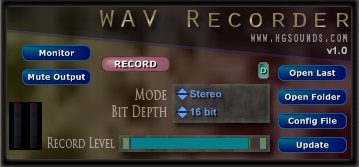 It can be used either in an Insert or as a Send Effect. The Sound output can either be direct through, Muted or the Recorded Signal to ensure maximum flexibility. It is a useful plugin for recording spontaneous improvisations, or providing realtime record functionality in Hosts which do not support this directly.
HGS WAV Recorder features
16/24/32 Bit Support.
Records at Host Projects Sample Rate.
Mono, Stereo and Sum Output Modes.
Monitor Switch.
Bypass – Disables Sound output for silent recording.
Record Level.
Record Level Indicators.
Open Last Recording Button.
Configurable Storage Directory – Open cfg file to change path, then click update to update the path.
Open Recording Directory in Windows Explorer.
Default – Sets to the plugins default parameters.
WAV Recorder is available as a free VST plug-in for Windows PC, but donations are always appreciated if you find the plug-in useful.
Visit Homegrown Sounds for more information.