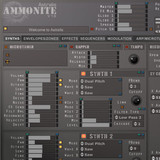 Homegrown Sounds has released version 1.1 beta of Ammonite, a virtual dual synthesizer instrument for Windows.
This version is an exciting update that introduces a new real time Additive synth engine, it uses more CPU but sounds very nice! As well as a few real time waves, such as SAW, Sine, Square & Triangle, there is also realtime Wavesets x2 with a new collection of Modes for them. On top of this, there are 4 Programmable Additive Waveforms with control for 16 harmonic volumes via sliders, and 32 different frequency modes such as harmonics 1-16, Odd harmonics, Even Harmonics etc… For more information see the manual.

There are also two new oscillator mix modes, Pure FM static/Key which operate in realtime for a more stable FM sound, but it does increase CPU use over the existing FM Modes.
Ammonite 1.1 beta is now available to download for Ammonite and Astralis Pack users.
More information: Homegrown Sounds