Homegrown Sounds has released version 1.3 of its Kosmology Kontakt script, and the Kosmos Infekted & Classics libraries now also include Kosmology versions.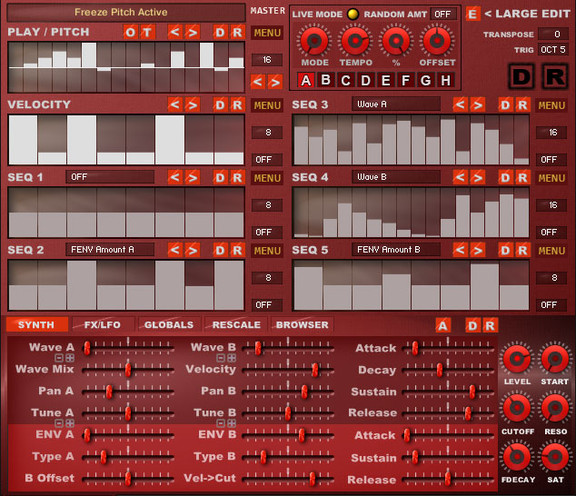 The Kosmology script for Kontakt 5 has been updated for all paid versions which includes Awakenings, Analog, Evolution, Dissonance, Space, Lumin and Elementary.
Changes in Kosmology v1.3
Sustain/Hold Mode Added via pedal or button ('H') – Mainly designed for use with a sustain pedal so that current notes will be held when released, it also has a button to be triggered from the GUI ('H' next to Live Mode). When on constantly it does work polyphonically although when no keys are held and new ones are triggered it really relies on a single note to release the old ones otherwise occasionally old notes will not be released. In practice if you want to use chords, playing them like a quick guitar strum works well.
Added Randomization options. Found under the new 'Options' Tab are a group of Buttons which will decide whether Wave A, Wave B. Wavemix/Start Position, FX, Filter and Envelopes should be included when using the Synth Randomize button. There are also individual randomizers for each of them.
7 New Destinations added:

Cutoff Mirror.
Resonance B Offset.
Cutoff/Resonance 1 Combi.
Cutoff/Resonance 2 Combi.
Cutoff/Resonance/Filter Decay Combi.
Wave Mirror.
Mod Frequency.

Fixed – Mirror Pan wasn't working correctly.
The update is available for free for Kosmology users.
More information: Homegrown Sounds