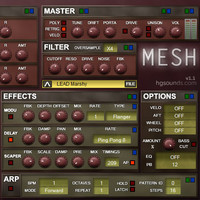 Homegrown Sounds has updated its Mesh virtual synthesizer instrument for Windows to version 1.1.
This update brings a new bank of 128 sounds of mainly traditional Analogue type Leads and Basses with minimal effects. There is also a dedicated version called Mesh Lead which allows loading this sound set into your host much more easily than loading an fxb.

There are also a few new features, such as Bass Cut, Assignable Destination for Envelope 3, and the option to send Oscillator 3 to the filter cutoff for some interesting modulation effects.
Changes in Mesh v1.1
New: Bank of 128 presets with a more traditional Analog Lead/Bass sound set.
New: Mesh Lead, a duplicate copy of Mesh with the new Lead sound set preloaded. Mesh Lead is identical, it just an easy way to select the alternative sound set from within the host, and presets are compatible across both versions.
New: Added OSC3->Filter – Enabling this disables sending to OSC1.
New: Added Bass Cut Button.
New: Noise Envelope is now Envelope 3 and has 3 possible destinations: Noise, Pitch, Resonance and OSC3->Pitch/Filter.
New: Default patch has been tweaked.
Fix: Fixed Filter Default not setting default correctly.
Fix: Fixed Clicks happening occasionally.
Fix: Sound could blow out on a patch change in some hosts, this is now fixed.
Fix: ARP Randomize could cause a crash in some hosts.
Fix: Internal Patch Selector didn't work in FL.
Mesh for Windows (VST) is available to purchase for $20 USD until July 31st, 2012 (regular $40 USD).
More information: Homegrown Sounds