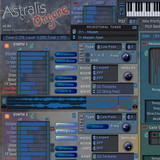 Homegrown Sound has released updates for virtual synthesizer plug-ins Orgone, Bion, and Baby Bion.
Changes in Orgone v1.06 / Bion v1.01
Now Portable, so can now be installed on a portable drive, see Portable readme for more details.
Added New course Pitch Destinations to the Modulation Matrix capable of up to 2 octaves – 'X Pitch'
Added New Quantized Pitch Destinations to the Modulation Matrix, quantized to real notes of up to 2 octaves 'Q Pitch'
[Bion] Fixed a bug where some controllers didn't work correctly through the Modulation Matrix.
Baby Bion was updated to 2.0 to fix the tuning.
The original Baby Bion was a semitone out of tune, and by the time it was noticed, there were too many users with it, so it was just left as a 'feature.' This version corrects that issue and is released as a new synth, so you can leave v1 installed for existing projects, and use this one in new projects.
Homegrown Sounds has also announced an offer on Homegrown Piano. A copy of Homegrown Sitar is included at no cost with every purchase made next week (£30 value).
More information: Homegrown Sounds