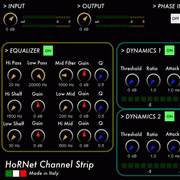 HoRNet has released the HoRNet ChannelStrip, a channel strip effect plug-in for Mac.
The HoRNet ChannelStrip is a workhorse but high quality audio processing plugin, it's extremely useful in every day to day mixing task.

Its equalizer can both shape the tone and be very surgical, its dynamic processors sports three different compressor models and an expander, making the HoRNet channel strip one of the most versatile channel strip plugin on the market.
HoRNet ChannelStrip features
High Pass filter with 18db/octave slope.
Low Pass filter with 12db/octave slope.
High and Low shelf filter.
Three parametric bands.
Two dynamic processors each with three compressor models (VCA, FET, OPTO) and an expander model.
Phase Invert switch.
Analogue saturation emulation.
The HoRNet ChannelStrip for Mac OSX 10.4 or higher (AU) is available to purchase for a special introductory price of 99 EUR (regular price 149 EUR).
More information: HoRNet ChannelStrip