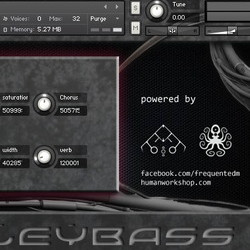 Humanworkshop has announced Foley Bass, a free virtual synthesizer instrument for Native Instruments Kontakt.
I do one to one tutoring with artists and sound designers via my website. And after the great contribution by Nolan, aka Frequent, a student asked me about using foley in kontakt to create heavy bass sounds. So that's exactly what we did. With the foley sounds in the pack from Nolan we created a set of patches and I later added a background and selected some parameters for the UI. Coincidentally Nolan has been doing lessons with me also, small world.

Besides the recordings of Nolan I used KSP scripting and built in FX. By adding FX chains in kontakt we can add harmonics. By using the scripting language to detune and set it in a nice legato mode we can end up with lovely sustained bass notes.
Foley Bass is a free download. The original recordings by Frequent are also available to download here.
More information: Humanworkshop / Foley Bass