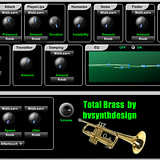 HV Synth Design has launched a new website for Total Brass, a VST instrument dedicated to acoustic modeled brass instruments, based on a self developed modeling method called Eclectic Acoustic Synthesis (EAS).
I am proud to release the first Brass plug-in that features low and high brass instruments, from contrabass trombone to piccolo trumpet, from f-horn to a Dizzy Gillispie like jazz trumpet, without any compromise at the sound quality. Not only that: you have also totally control over the most important brass aspects: Attack (mouth piece), player lips, you can even select a bore type: narrow/width.
Total Brass features
Breath Pressure, choose between Modulation Wheel and Breath Controller (you can also set a threshold for more or less breath pressure).
Attack for 'blowing' explosive attacks.
Player Lips, amount (midi learn) and duration (kind of a short thrill, jazz players often use this to get a more aggressive tone).
Instability (long tones always have some instability).
Breath noise (midi learn).
Flutter Tongue – this is done with a rapid up and down movement of the tongue (midi learn).
Portamento : choose between midi learn and velocity.
Pistons or slide (selectable).
Width Bore, Narrow Bore and Harmon mute (selectable).
Note-to-note transition, pressing a piston, when another one is not released in time.
Damping: alter the bore structure/timbre (midi learn).
4 stage EQ.
Low Brass (loudness), add extra harmonics and thus the loudness for low bass instruments.
Tuning control.
Pitch and amplitude vibrato via aftertouch or midi learn.
Volume control.
Overblowing with the Pitch Wheel.
Total Brass is available as a VST instrument for Windows PC for 139 EUR (ex. VAT). A demo version can be downloaded from the product page.
Visit the Total Brass website for more information and audio demos.