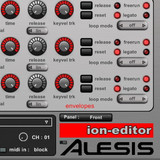 HyperSynth has released version 2.0 of ION-editor, a software editor for advanced controlling over the Alesis ION and Micron analog modeling synthesizers in your DAW.
Ion-editor offers intuitive user interface and it emulates ion LCD display graphics for parameters that need more descriptive information like envelope curve, filter balance, mod matrix and tracking generator.
Changes in ION-editor v2.0
Added numerical and graphical readout for all envelopes.
Now mod matrix can be displayed in front panel using new panel switch.
Added intelligent randomizer.
Added graphical readout for EX-input balance.
Added readout for mod matrix level and offset.
Added readout for filter freq (range 0-10 KHz).
Added readout for portamento time and "FX1 LFO rate".
Added X, Y, Z knobs "mapped to" (Micron mode).
Added option to set "category" via NRPN (Micron mode).
Added option to set "preset" for tracking generator.
Now it is possible to set "FX1 LFO synced rate" via NRPN (Micron mode).
Now "Load sysex" does not show pop-up screen after opening file and it can be accessible via new "Sysex tools" menu, "Load and Send" acts like the old behavior of "Load sysex" button.
Added remotely saving Micron/Ion programs in sysex format.
Added "Save (editor program)" in sysex format.
Added an option to change program name and category in a sysex file.
Added "Settings" menu.
Added new skin.
Now it is possible to configure editor in a way that it does not load panel-mode and program/bank numbers from preset.
Added a default sysex file with pre-added 12 mod slots (useful for building a patch from scratch without manually adding mod slots in Micron).
Fixed "ION" mod matrix bug (OS issue) which did not allow user to create/modify mod parameters remotely via NRPN. This issue also caused sound difference when loading presets before.
Fixed problem which causes LFO1 freq value to be overwritten by LFO2 Freq when using "Update Edit buffer" (ion OS issue).
Fixed minor bug in pre-filter mix balance readout which did not display correct value at the first click.
Fixed issue in "update mode" auto function that did not force editor to update all parameters via NRPN properly at startup.
Now if you set "update mode" to manual it will block updating edit buffer at plugin startup too.
Fixed issue in "ion arpeggiator" graphics that caused conflict with filter settings.
Fixed minor graphical mistake in osc sqr waveshape.
Fixed issue about inverted "pitch wheel mode" after requesting patch from Micron.
Fixed issue about updating "env loop mode" after requesting patch.
Corrected "OSC fine" default value that was set wrongly after v1.3 release.
Now "All notes off" mutes all notes properly (Micron mode).
Now FX balance, FX1 feedback, vocoder analsis, vocoder bandshift are utilized with centered knob.
Now selecting program using program knob triggers/sends MIDI bank number too.
Deleted unusable "Arp module" from GUI in micron mode.
Now new "About page" suggests user to select between Micron/ion mode.
Sorted/Renamed parameters names in a way that they are displayed in VST host list properly.
Updated documentation; PDF.
Minor GUI enhancements.
ION-editor is available to purchase as a VST plug-in for Windows for $38 USD. Registered v1.x users can upgrade for $9.99 USD.
More information: HyperSynth / ION-editor