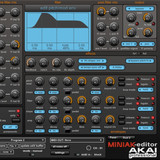 HyperSynth has updated the Miniak-editor Akai Miniak controller software to version 2.2.
Miniak-editor is able to retrieve presets from Miniak memory or load it from hard drive into the editor. You can send a complete program to Miniak via sysex or change any parameter of synthesizer in real time.
Changes in Miniak-editor v2.2
Added MIDI learn and default CC assignment for most of the parameters.
Added new MIDI controller input port.
Added support for Nintendo Wii Remote as a MIDI controller.
Added Latch button.
Fixed rare issue in saving MIDI In/out when the device number was greater than 9.
Fixed problem that caused mismatch between standalone and VST MIDI In device.
M1 and M2 wheel now also respond to changes visually in block mode (echo off).
Updated documentation (Added CC tables and step by step tutorials).
Miniak-editor for Windows (VST) is available to purchase for $38 USD.
More information: HyperSynth / Miniak-editor