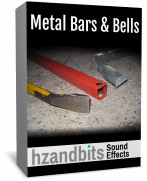 Hzandbits has announced Metal Bars & Bells, a sample pack featuring a collection of bell-like sound effects in 24bit/96kHz.
No actual bells were harmed in the making of these sounds – but several other metal objects were.

From crow bars and stainless steel soap trays, a selection of highly resonant and beautiful sounds were coaxed. From sustained tones to short percussive hits; from distinctive sinewaves to shimmering, phasey goodness.

This collection contains several sounds from each object, giving you plenty of musical variety. Drop them straight into your favorite sampler, add healthy doses of reverb, delay and other effects, and you're off to see the wizard. Or something.
Metal Bars & Bells is available for $16 USD. A 50% discount is available to newsletter subscribers.
More information: Hzandbits / Metal Bars & Bells