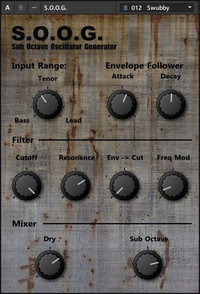 Icebreaker Audio has announced the release of S.O.O.G. (Sub Octave Oscillator Generator), a free analogue style octaver effect for Native Instruments Reaktor 5.8.
The effect produces a fuzzy version of the input signal, by generating a modulated square wave one octave below the tracked pitch. This fuzzy octave can then be filtered to smooth out the tone, or to create synth style sounds.

The effect works best on monophonic instruments with strong fundamental frequencies like bass guitars or clear vocals.
The ensemble is a free download from Icebreaker Audio.
More information: Icebreaker Audio / S.O.O.G.