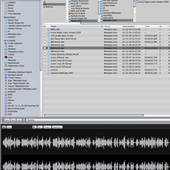 Iced Audio has released version 5.2.0 of AudioFinder, the audio library and production base station for Mac.
AudioFinder is an audio asset management system, and music production hub. AudioFinder gathers all the most useful tools in one quick and intuitive application, enabling you to be more creative by handling all the time consuming tasks that slow down your music production.
Changes in AudioFinder v5.2.0
User interface redesign. Added new unified Metadata View/Edit Sidebar and several other workflow improvements.
Metadata Edit's "Guess" key now works for multi-selections.
New waveform rendering style.
Added Miniview/List view Toolbar toggling button.
All new Sample Extractor HD now works with 16, 24 and 32 bit files.
Updated the Shortcuts Help Panel to reflect the latest.
Added a new user preference to opt into showing Audio Unit plug-ins and presets in the Sidebar (off by default)".
Added a new user preference to make WAV the default output format.
Fixed memory leak in the Sample Tool.
Fixed column truncation mode in the sound list. Will now show trailing "…" where applicable.
Spot to ProTools bug fix when two dual mono files are selected.
Added "Export Selection to Logic" to the Sample Tool.
Other bug fixes.
Audio Finder for Mac OS X is available to purchase for $69.95 USD.
More information: Iced Audio