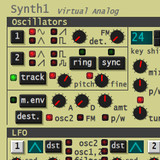 Ichiro Toda has released version 1.08 of Synth1, a free virtual synthesizer instrument plug-in for Windows.
Synth1 is a software synthesizer for computer music use. It is VSTi compatible. The current version is freeware. Functionally it is modelled on the Clavia Nord Lead 2 Red Synth.
Changes in Synth1 v1.08
DXi version was discontinued due to difficulty of development environment maintenance.
Synth1 installer was discontinued. Instead a tool (initsetteings.exe) for setting Windows registry configuration is included.
Number of the banks was expanded to 100. The setting initialization tool sets to bank00 – 09, but does not set bank10 – 99. Folders have to be prepared manually for use with bank10 – 99 (setting in optional dialog).
Fixed: MIDI tab of the optional dialogue was replaced without permission.
Fixed: Program change error.
Synth1 is available to download as a freeware VST instrument plug-in for Windows PC.
More information: Synth1