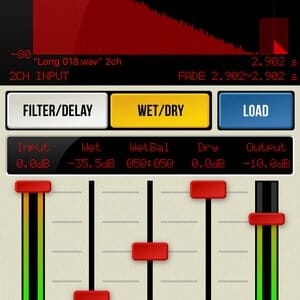 ART Teknika has announced the release of iConvolver, an app for conveniently utilizing convolution reverb on an iOS device.
Convolution is an effect that adds sampled reverberative properties to a sound to recreate the original properties of that sound. The data of these reverberative properties are called the Impulse Response, and can record the properties of not only acoustic space but also from such things as hardware and speakers. By recording the properties of reverberation from acoustic spaces such as halls and studios, high-grade hardware reverb, spring reverb, speaker cabinets and microphones, etc. to Impulse Response files, they can be reproduced in iConvolver.

As iConvolver comes with several Impulse Response files included, you can immediately test out those sounds.
iConvolver features
Equipped with an original convolution engine.
Zero latency.
Compatible with external Impulse Response files (WAV/AIFF formats (1ch, 2ch, 4ch)). Open In is compatible with Zip files, and can extract Zip files as well. (Not compatible with password-protected Zip files).
Equipped with low pass and high pass filters for adjusting reverb sound.
Can be used in combination with other apps compatible with Audiobus and Inter-App Audio. Standalone operation also possible.
A universal app that can be used with both iPhone/iPad.
Comes with several original IR files (over 100) included.
iConvolver is available for purchase for the introductory price of $3.99 USD for a limited time (50% off regular).
More information: iConvolver