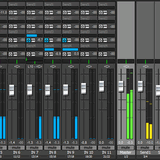 ifoundasound has released Miksebord, a mixer plug-in for Windows.
Following up our 8×2 mixer we have created a new mixer, Miksebord.
It has elleven stereo inputs one stereo master and four stereo sends.
Miksebord features
Pre post on each channel for each send.
User can rename each channal strip.
Two pan modes, balance and dual:

The balance mode simply gains the left and right signal up or down.
In dual panners mode each side of the stereo signal can be sent to both sides, giving you the option to reverse the stereo image, sum it to mono and everything in between.

Peak meters on inputs and outputs.
All controls are automatable, and using LiveProfessor's Controller maps you can assign MIDI controllers to each function.
Miksebord is available to purchase as a VST effect plug-in for Windows PC for 26 EUR / $32 USD. A demo version can be downloaded from the ifoundasound website (2 month trial).
ifoundasound has also released a new beta of LiveProfessor, the effect rack software for VST plug-ins.
Changes in LiveProfessor b1.2.3
Fix: Fireing cues via MIDI could lead to crash.
Fix: Midi actions not working when added using the "global cue" tool.
Fix: Sending sysex in a cue now works.
More information: ifoundasound