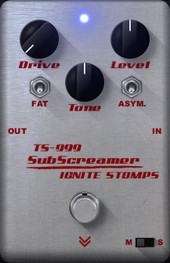 Ignite Amps has released the TS-999 SubScreamer, a free distortion VST effect plug-in for Windows.
Inspired by the most famous green overdrive pedal (version 808), based on the real pedal built by Ignite Amps for the italian thrashers Subhuman
TS-999 SubScreamer features
Dynamic 2N3904 BJT input and output buffers analog modeling.
Dynamic 1N4148 diode clipping circuit analog modeling.
Symmetric / Asymmetric clipping mode.
Normal / Fat mode.
Input level control for better response to different pickups.
Internal oversampling (selectable between 2x, 4x and 8x).
Switchable input and output buffer modeling for better CPU performance.
Mono / Stereo support.
Double precision floating point internal processing.
Fully coded in C++ using the Steinberg SDK 2.4.
The TS-999 SubScreamer is available as a free download here.
More information: Ignite Amps