IK Multimedia has launched a Deluxe Deals Promotion, offering 50% on our its popular Deluxe collections: T-RackS 5 Deluxe, AmpliTube 4 Deluxe and Syntronik Deluxe.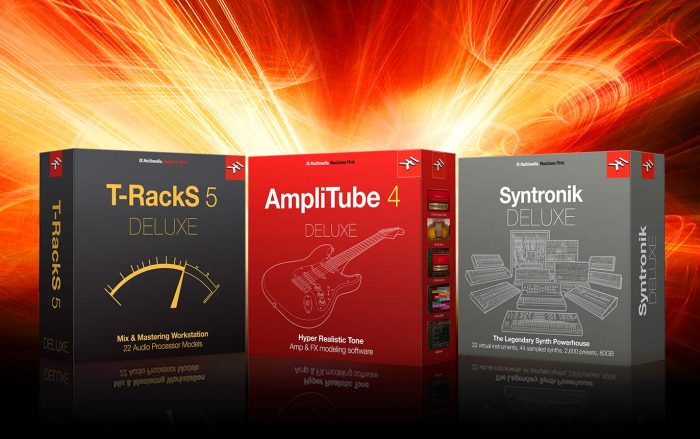 IK's Deluxe bundles offer a massive range of sounds & effects at great prices.

But this week only, enjoy 50% off our most popular Deluxe collections – T-RackS 5 Deluxe, AmpliTube 4 Deluxe and Syntronik Deluxe. Upgrade your music creation workstation with these incredible plug-ins to create, record, mix and master and enjoy deluxe savings!
T-RackS 5 Deluxe (149.99 USD/EUR) features 22 analog-modeled and digital processors, for extraordinary processing versatility and soulful analog character. Enjoy all of the new T-RackS 5 processors and features, 4 Classic processors, plus 14 of our most popular T-RackS Singles in one great collection.
AmpliTube 4 Deluxe (149.99 USD/EUR) gives you all the hyperrealistic tone and flexibility of AmpliTube 4 plus a grand total of 140 amplifiers, cabinets, stompboxes, speakers, microphones, rack effects and more. All this in addition to revolutionary features like AmpliTube 4's hyperrealistic cab room, dual 3D mic positioning, individual speaker selection, 8-track recorder, looper and UltraTuner.
Syntronik Deluxe (199.99 USD/EUR) offers 22 instruments recreating the sound of 44 legendary synthesizers and string machines, 80GB of content, 2,600 instrument presets, over 120,000 high-quality samples. Syntronik Deluxe is a mind-blowing collection thats captures unique characters and sounds from the entire history of analog and digital synthesizers in a single collection.
The offer expires November 2nd, 2018.
More information: IK Multimedia