IK Multimedia has announced its has extended its Happy Holi-deals sale with up to 50% off on AmpliTube 4 Deluxe, MODO BASS, T-Racks 5 Deluxe, and more.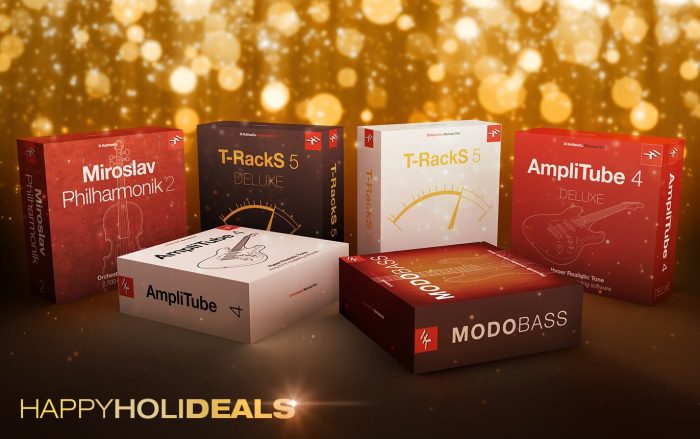 The new items join AmpliTube 4 MAX, T-RackS 5 MAX, Syntronik Deluxe, MODO DRUM, and the other previously announced products.
With the holiday cheer in full-effect, we've decided to include more of our most popular and powerful music creation software in our Happy Holi-deals promotion. From now until the end of this year, AmpliTube 4, AmpliTube 4 Deluxe, T-RackS 5, T-RackS 5 Deluxe, Miroslav Philharmonik 2, and MODO BASS will be available for up to 50% off MSRP.

Play and record guitar parts with an unprecedented tone palette from AmpliTube 4 or AmpliTube 4 Deluxe. IK has been upping the amp modeling / amp sim game for almost two decades and now you can get a great deal to put that power and the powerful tones under your fingertips. Need to get more out of your mixing and mastering? Grab T-RackS 5 or T-RackS 5 Deluxe and you'll have a great set of studio standards and realistic analog-modeled versions of classic studio hardware. If you're more interested in orchestral samples that can imbue emotion and power to anything from traditional composition to modern pop, rock, hip-hop and more then Miroslav Philharmonik 2 is the answer.

Finally (last but not least) MODO BASS stands alone here as it does in its field as the leader in realistic electric bass virtual instruments. IK's groundbreaking physical modeling technology allows you to create bass tracks that sound like you've hired an actual bass player.
The offer expires December 31st, 2019.
More information: IK Multimedia