IK Multimedia has introduced AmpliTube 4, a new version of the legendary guitar & bass tone studio, featuring new 3D cabinet mic room, speaker modeling, 5 iconic amps, an acoustic modeler & much more.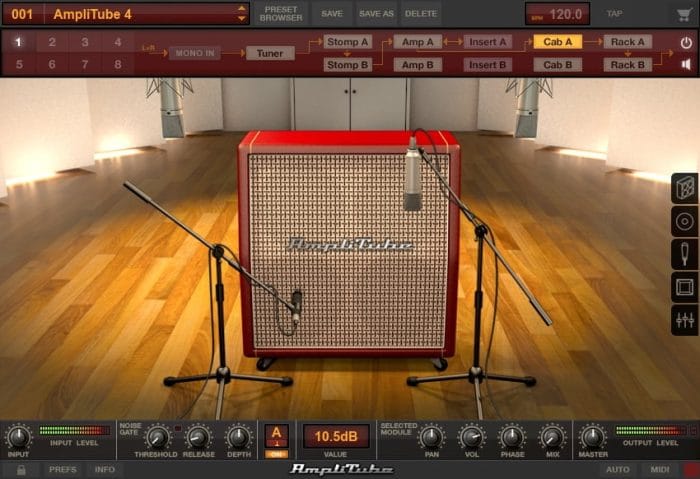 Announcing AmpliTube 4, a newly enhanced version of the legendary guitar & bass tone studio DAW plug-in and software for Mac/PC. It now features the most advanced speaker cabinet section ever developed, new speaker modeling, 5 iconic new amps, an acoustic modeler, improved sound & signal path, UltraTuner, a 4-track Looper, a built-in 8-track DAW and more.

These new features add to the jaw-dropping inspirational depth, hyper-real performance and amazing sonic accuracy that have made AmpliTube such an essential tool in the music studios and performance rigs of guitarists, bass players and other musicians all across the world. With more realism, more gear, better sound, more flexibility, more functionality, more tone and just plain more everything than ever before, AmpliTube 4 is the most powerful version of the ultimate guitar & bass tone studio ever released.
AmpliTube 4 features
5 new British Amp models and matching cabs based on classic British tones from 60s, 70s, 80s, & 90s.
Hyper-Realistic Acoustic Guitar Sim Pedal converts electric guitar signal into multiple styles of acoustic guitars.
UltraTuner – the world's most precise digital tuner accurate to 1/100th cent.
5 section "Cab Room" with selection, speaker selection, mic placement, room selection and cabinet audio mixer.
Industry-standard sound with DSM™ (Dynamic Saturation Modeling) and VRM™ (Volumetric Response Modeling) technologies for Hyper-Realistic emulation of real world gear and the best sounding models.
Dynamic Response Modeling provides real amp response and feel — models dynamic relationship and interaction between power amp and speakers, plus physical and harmonic interaction between individual speakers, cabinet and room construction and mics.
Perfect as a plug-in for studio recording and mixing in any Mac/Win DAW, native compatibility with 64-bit applications and operating systems.
Also perfect for live performance thanks to the standalone version with instant preset switching via MIDI control.
Highest supported Sampling Rate: 96 kHz.
DAW automation and BPM synchronization.
6 separate modules: Tuner, PedalBoards, Amplifier, Effects Loop, Speaker Cabinet, Post Rack effects.
Rig of up to 12 stomps, 2 Amp heads 4x dual effects loop slots + 2 Cabs + 2x double cab mics + 2x double room mics, and 8 rack effects can be configured in up to 8 serial/parallel configurations.
Two movable microphones allow you to mic the cabinet exactly like in real world studio and live environment.
Replace individual speakers in cabinets (12" speaker models).
29 individual speaker models available with more added to Custom Shop.
Stereo signal path makes it suitable for any type of instrument including drums, keyboards, vocals and more.
Massive database of presets with multiple guitar and bass oriented tags and keywords, advanced search function, rig visualization and more plus free online sharing service for user presets called "Preset XChange".
Perfect integration with IK's range of audio interfaces and controllers such as iRig HD, iRig Pro, iRig 2, StealthPlug, SteathPedal and StompIO allows for instant recording and performing in the studio or on stage with full programming at the software level.
8-track built-in multitrack recorder and DAW enables you to quickly capture ideas or even record a full 8-track composition in the standalone application without the need to open a DAW and with the convenience of AmpliTube superior quality audio processing.
4-Track Looper for capturing and layering ideas quickly and easily.
Export loops to hard drive and import into the DAW section, import audio to track 1 in looper for playing over backing track loop.
Imports any Wav, Aiff, sd2, Apple Caf, Flac, MP3 audio file (Standalone version).
SpeedTrainer for speeding up/slowing down imported tracks without affecting the pitch – the perfect tool for practicing and improving your instrument skills or learning your favorite riffs and solos (standalone version).
Expandable via the built-in AmpliTube Custom Shop feature with gear from the world's top manufacturers and artists.
Universal upgrade is available to anyone and any previous version of AmpliTube — Restore gear from previous purchases via the Custom Shop.
AmpliTube 4 is available for pre-order for 99.99 EUR/USD or 100 Gear Credits to everyone (users of AmpliTube 3, AmpliTube CS, AmpliTube collections and new users). AmpliTube 4 will be available in October for 149.99 EUR/USD and 150 Gear Credits from the AmpliTube Custom Shop. Prices excl. taxes.
More information: IK Multimedia