IK Multimedia has announced AmpliTube®Fender™ for iPhone®, iPod touch® and iPad®: full featured tone guitar rig apps with built-in recording studios offering the legendary Fender tone designed and developed in close cooperation with Fender.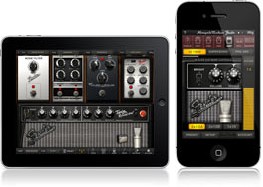 The AmpliTube Fender™ app, at its core, is all about pure Fender® tone. It was developed with careful guidance and critical tone testing from the tone gurus at Fender® to ensure the authenticity of the sound.

Derived from the award-winning desktop version of AmpliTube Fender™, the app offers 5 Fender® amp models — the '65 Deluxe Reverb®, the Super-Sonic™, the '65 Twin Reverb®, the '59 Bassman® LTD and the Pro Junior™, and 6 Fender® stompbox models — Tape Delay, Compressor, the Blender™, Phaser, Overdrive and Noise Filter.
AmpliTube Fender™ features
Real time guitar and bass mobile multiFX + recording app.
Full rig with 3 stompboxes (iPhone)/4 (iPad) + amp with effects + cabinet + mic.
6 Fender® Stomps — Fender® Phaser, Fender® Blender™, Tape Delay, Overdrive, Compressor (by registering) and Noise Filter.
5 Fender® Amps with matching Cabinets — '65 Deluxe Reverb®, '65 Twin Reverb®, '59 Bassman® LTD, Super-Sonic™ and Pro Junior™.
2 Mic models, dynamic and condenser.
Single track recorder (with re-amping) expandable to full 4 tracks (iPhone)/8 tracks (iPad) recording studio with master effects through in-app purchase.
Import and play up to 50 songs/backing tracks directly from your iPod library on your device or from your computer.
Ultra-realistic tones derived from the AmpliTube Fender™ Mac/PC studio.
Slow down or speed up to tempo (-50% to +200%) of imported songs without affecting their pitch.
36 presets can be saved/named/recalled on the fly.
Includes tuner/metronome.
Low-latency for real time playing.
FREE version also available – can be expanded by individual gear model purchases, or bundle purchase via the in-app purchase feature.
Can be incorporated into the AmpliTube 2 for iPhone/iPad app via in-app purchase.
The AmpliTube Fender apps for iPhone and iPad costs $14.99/ €11.99 each and will soon be available on the iTunes app store. A free version will also be available and will be expandable with individual amps and effects a-la-carte through in-app purchases. The 4 –Track recorder and 8-Track recorder with master effects section on iPhone and iPad cost $9.99/ €7.99 and $14.99/ €11.99 respectively as an inapp purchase.
AmpliTube 2 for iPhone or iPad users will be able to add AmpliTube Fender stomp box and amplifier models as individual in-app purchases for only $4.99/ €3.99 per amp, $2.99/ €2.39 per stomp box, or $14.99/ €11.99 for the entire bundle.
More information: IK Multimedia