IK Multimedia and MESA Engineering have announced AmpliTube MESA/Boogie for Windows and Mac, a new collaboration that brings some of the most legendary tones from the original boutique manufacturer's amplifiers and cabinets to AmpliTube Custom Shop.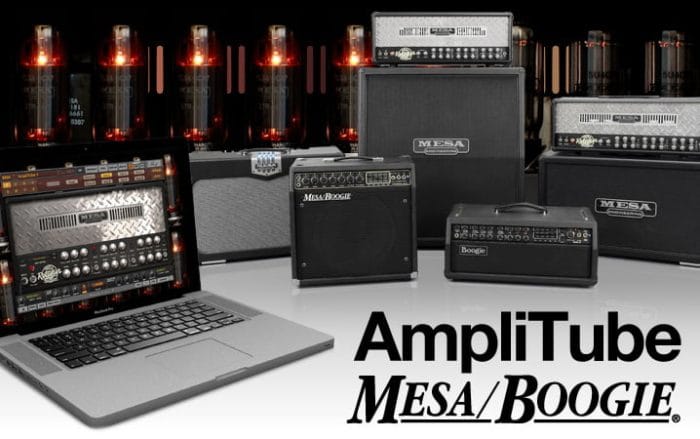 Now guitarists, producers, engineers and anyone needing the power of "in-the-box" professional amplifier software can enjoy modeled versions of several of MESA/Boogie's most famous high-gain sounds via 5 inspiring amplifiers and cabinets. These exciting new co-developed models deliver everything from gorgeous sparkling clean sounds to the percussive aggression and tight crunch of the Rectifier series to the violin-like sustain of the Mark series to the ultra-flexible mid-gain British leanings of the TransAtlantic TA-30, and everything in between.

This first-ever officially authorized by MESA® line-up includes the classic Boogie® V-Curve EQ'd crunch rhythm and singing lead voice of both the MARK III and MARK IV Series as well as what many refer to as the biggest sound in Rock, the crushing gain of the Dual and Triple Rectifiers — these are amps that have ruled the airwaves for almost two decades. As an added bonus, the Transatlantic TA-30 (MESA's upscale tribute to the classic British EL84 legacy) is included as well. It roams the elusive pushed clean and medium gain territories with both finesse and attitude. These models have been precisely crafted to sound, look and perform just like their hardware counterparts and have been meticulously scrutinized, worked, re-worked and approved by the R&D Team at Mesa Engineering.
AmpliTube MESA/Boogie features
Standalone and plug-in software for Mac/PC.
5 of the most influential guitar amps of all time.
5 original matching cabinets.
Incredible tonal flexibility: mix and match amps, cabinets, mics and more.
Sound-certified and approved by MESA/Boogie®.
5 separate modules: Tuner, configurable Stomp pedal board, Amp head, Cabinet+Mic and Rack Effects.
2 fully configurable rigs with up to 32 simultaneous effects.
Expandable with more gear models via Custom Shop.
AmpliTube MESA/Boogie is available for pre-order for 99.99 EUR/USD (regular 149.99 EUR/USD). AmpliTube MESA/Boogie bundle will be available September 1st, 2015.
More information: IK Multimedia