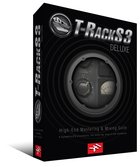 IK Multimedia has announced T-RackS 3, a new high-end mastering and mixing suite.
IK pioneered the analog-modeled mastering field with the first all-in-one software solution, the original standalone version of T-RackS that became a cult hit for a multitude of studios around the world. Now the new T-RackS 3 raises the bar again in high-end DAW mastering and mixing, with a suite of 9 analog-modeled and digital Dynamics/EQ processors, offering unparalled audio quality with scores of new and unique features.
T-RackS 3 features
9 processors comprised of 3 new analog and vintage emulations (including models based* on the Fairchild 670 and the Pultec EQP-1A), 2 new digital processors as well as the 4 classic, award-winning T-RackS processors

New T-RackS processors:

Vintage Tube Compressor/Limiter model 670 (based on the Fairchild 670)
Vintage Tube Program Equalizer (based on the Pultec EQP-1A)
Opto compressor (based on the finest mastering Opto-compressor)
Intelligent, multi-algorithm Brickwall limiter
High precision, high definition Linear Phase Equalizer

Classic T-RackS processors:

Classic T-RackS Compressor
Classic T-RackS Multi-band Limiter
Classic T-RackS Clipper
Classic T-RackS Equalizer

New configurable mastering/mixing chain – run up to 12 parallel/series processors
New complete built-in metering section with Peak, Perceived Loudness, Phase, and RMS meters, plus a Spectrum analyzer with Peak, RMS and Averaging indicators
New standalone and plug-in versions available in the same package for use in all the most popular native DAWs
New high-fidelity oversampling with crystal clear transparency, for high quality audio processing throughout the entire signal path
New SCC™ technology coupled with IK's unique DSM™ technology provides the most realistic software emulation of vintage gear to date
Extremely easy to use, with style-based presets, full chain visualization, one-click single module or chain bypass, "compare" function, multiple audio processing in standalone mode, and much more
T-RackS 3 will be available worldwide in stores and in the IK online shop by November 10th, 2008, and comes in 2 versions:
T-RackS 3 Deluxe with a retail price of $499/€379.99. The definitive solution in mastering/mixing with 9 processors: 4 classic T-RackS processors + 2 digital processors + 1 Opto compressor + Vintage Edition including 2 models of Fairchild + Pultec. T-RackS 3 Deluxe Crossgrade*, special Deluxe reduced-price version for all IK registered users has a retail price of $299.99/€229.99
T-RackS 3 Standard, the 4 classic T-RackS processors in the new application framework, has a retail price of $199.99/€149.99
Visit IK Multimedia for more information.