IK Multimedia has announced an iPad version of its recently updated Hammond B-3X tonewheel organ virtual instrument.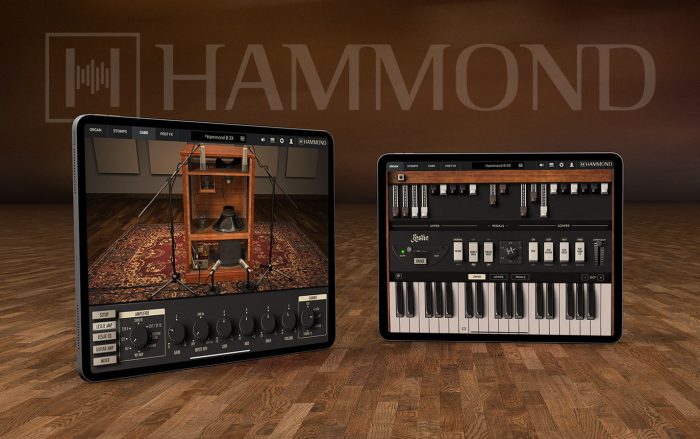 The new app maintains all the realism, detail and features found in the desktop version, which was created in close collaboration with Hammond USA and Suzuki Music Corp. of Japan, but now available on an even more portable device, making it ideal for a streamlined live performance or travel recording rig.
Hammond B-3X for iPad meticulously recreates the sound, controls and entire effects signal path of the legendary Hammond® B-3. This comprehensive approach offers a level of realism and detail that will satisfy the most discriminating B-3 fans while also offering an affordable introduction to the unique world of tonewheel organs that can be enjoyed by all levels of players.

The new app is ideal for performing musicians looking for a simplified stage rig, letting them run Hammond B-3X on an iPad instead of a dedicated laptop, with full compatibility for MIDI controllers and Hammond digital organs. Hammond B-3X for iPad also supports the latest AudioUnits format, allowing it be used as a plug-in in many of today's most popular recording apps, for an ultra-portable travel studio that delivers world-class realism and features.

IK's industry-leading modelling techniques were employed to deliver fine details and nuances approved by the discerning ears of the Hammond Organ Company in Chicago. In addition to its authentic organ sound, this new instrument offers a full-rig chain including stomp effects, an extended version of IK's Leslie® Collection with a rotary cabinet with mix-and-match amp and cabinet models plus four microphones, a parallel guitar amp with 4×12 cabinet, a mixer and three studio post effects.
Hammond B-3X for iPad features
The first official Hammond B-3 virtual instrument, designed in cooperation with Hammond Organ Company.
Advanced organ editing: tonewheel model selection, generator leakage, key click, tonal balance, percussion and chorus controls.
24 custom drawbar settings available within each preset.
Official Leslie speaker with 7 amps and 5 cabinets to mix and match.
Parallel guitar amp section with 2 amp models and 4×12 cabinet.
5-effect stompbox pedalboard for ultra-flexible tonal shaping.
3-effect studio post FX section for final polish and mastering.
Zoomed-in controls view for live or session use .
MIDI program change preset assignments.
Assignable MIDI continuous controllers for use with external controllers.
AUv3 plug-in compatibility for use inside recording apps.
Hammond B-3X for iPad is available from the Apple App Store at the intro price of $99.99 USD through March 2020.
More information: IK Multimedia