IK Multimedia has expanded its iKlip range of iPhone/iPad and smartphone/tablet mounting products with the iKlip 3 series.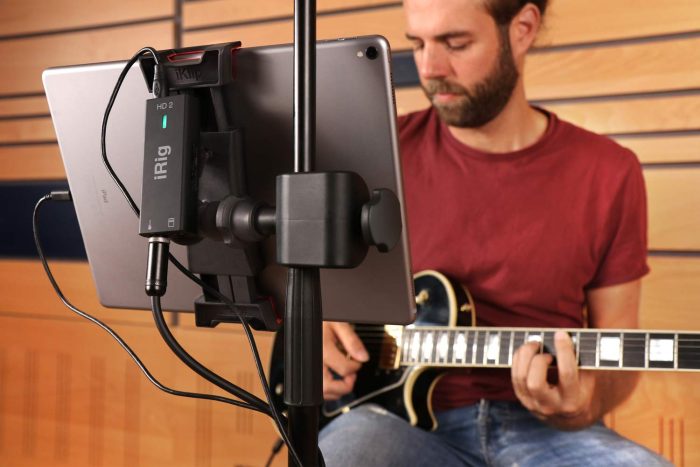 This new line-up, which includes the iKlip 3, iKlip 3 Video, and iKlip 3 Deluxe provides secure, flexible support for a wide range of iPad/tablet sizes during live performance, image and video capture, presentations, and more.
The iKlip 3 series offers several iPad/tablet mounting options and configurations:
iKlip 3 is designed for microphone stand mounting and includes a newly designed holding bracket with more durable rubber pads and a spring mechanism that allows users to rotate their device up to 360°. The new design enables the device to be mounted on the front, side, or boom arm of any mic stand so that the device is in the perfect spot for any gig. In addition, a smart bracket design leaves buttons and ports free from obstructions, and expandable arms offer secure support for all popular tablet sizes.
iKlip 3 Video can mount any tablet onto a camera tripod. It offers the same universal tablet support, flexible viewing angle and rugged design as iKlip 3, but mounts to any standard UNC ¼" – 20 thread, for compatibility with virtually any camera tripod, monopod or other mounts.
iKlip 3 Deluxe offers the widest range of mounting options for a simplified setup. It includes both the mic stand mounting bracket and the tripod mount attachment, giving users five mounting options in a single product. For further convenience, this combination also allows for mounting directly on top of a mic stand or any other standard UNC camera thread.
Each model also sports a new Velcro® strip slot to mount the latest iRig interfaces or simply manage and streamline cables while in use.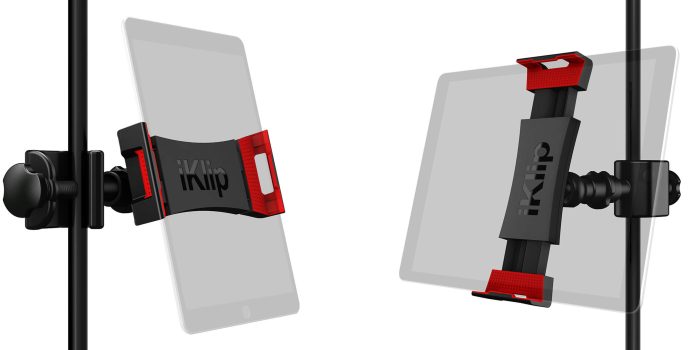 Rugged, reliable protection
Seven years ago, IK created and defined the category of smartphone and tablet mounting products with the acclaimed iKlip range. The new iKlip 3 series builds upon the original with the widest range of mounting options for poles up to 1.2″ in diameter, and support for tablets with screen sizes from 7″ to 12.1″ (with or without a case). It also boasts a high-quality build featuring rugged-yet-lightweight thermoplastic and improved rubber pads designed for heavy use without wearing or stripping.
Flexible, adjustable, and easy to position
Installation and positioning has been made faster with the iKlip 3 series. The ball & socket joint allows the widest range of positions, in both landscape and portrait mode. It works in tandem with the new 360º mounting bracket to quickly create any viewing angle in seconds.
Unlike other tablet mounts, iKlip 3 fits on any part of a pole or tripod for increased flexibility and quick set up, even in unfamiliar settings. Once attached, the new mounting bracket allows users remove the grip with just a few quick twists.
iKlip 3 and iKlip 3 Video are available now for 49.99 USD/EUR. iKlip 3 Deluxe is 69.99 USD/EUR. Prices excluding taxes.
More information: IK Multimedia