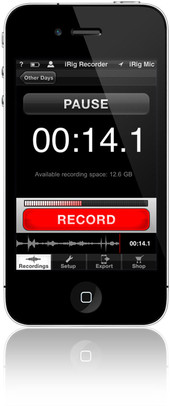 IK Multimedia has released iRig Recorder, a powerful and flexible audio recording app for iOS devices.
iRig Recorder is the perfect companion to iRig Mic. Take iRig Mic and iRig Recorder anywhere to capture podcasts, interviews, concerts… Any sound out in the field or right there at home. Then use iRig Recorder's intuitive editing tools to cut, crop or loop your audio and its powerful effects processors to optimize tone for speech or music, clean up background noise, brighten your voice for clarity and presence, smooth your voice in harsh or overly bright recordings or change the speed of your tracks without affecting their pitch.
iRig Recorder features
Convenient, easy-to-use mobile recording and editing app: just launch the app and press record.
The perfect companion to iRig Mic for your podcasts, interviews, concert and field recordings.
One touch recording with real-time monitoring.
Intuitive, non-destructive editing tools to cut, crop and loop your recordings.
8 intelligent effects processors automatically optimize your recordings – no audio knowledge required

Optimize Volume: automatically adjusts for optimal volume.
Optimize Tone: automatically adjusts for optimal equalization.
Cleanup: automatically cleans up the background noise in recordings.
Brighten Voice: automatically increases clarity of speech and vocals.
Smooth Voice: automatically smooths harsh or overly bright vocals.
Speed Up: decreases the duration of the recording without altering its pitch.
Slow Down: increases the duration the speed of the recording without altering its pitch.
Pitch Shift: raises or lowers the pitch of the recording without changing duration.

Pitch and time – based effects include changing the speed of your recordings (without affecting pitch) to adapt your audio content to other media such as video, and also changing the pitch of your recordings without changing the duration.
Organizes your recordings by creation date and tags with geo location.
Transfer files via E-mail, Wi-Fi or iTunes File Sharing with easy upload to FTP or SoundCloud.
Export files as compressed .m4a or uncompressed .wav.
Recording time is only limited by the storage space on your iOS device.
iRig Recorder is available to purchase from the iTunes App Store for $4.99 USD / 3.99 EUR. A free, expandable version of iRig Recorder is also available that allows the user to makes à la carte purchases inside the app.
More information: IK Multimedia