IK Multimedia has announced its Ampeg SVX Krazy Deal, a limited time sale with 60% off the Ampeg SVX and Ampeg SVX 2 bass amp plugins.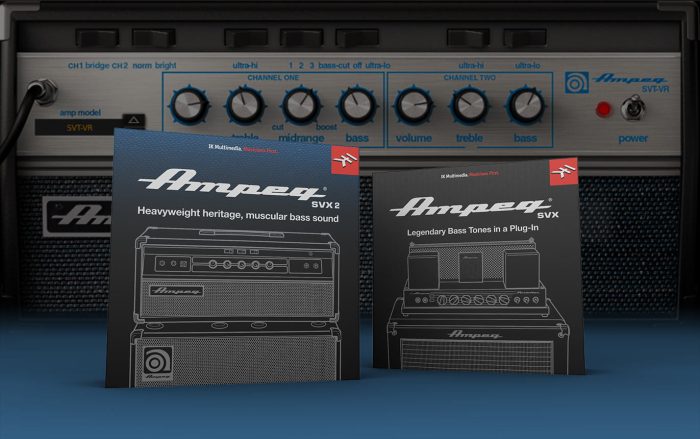 Just when you thought we were done with the savings… We've got another Krazy Deal for you, this time we're taking 60% off Ampeg SVX, Ampeg SVX 2, and the bundle of Ampeg SVX 1 and 2.

From December 5th through 9th, get Ampeg SVX, Ampeg SVX 2, Ampeg SVX 1 and 2 Bundle for 60% off the normal price! Now is your chance to get the classic bass tone for AmpliTube for as low as $/€39.99!
Ampeg SVX 2 collection gives you the opportunity to expand your bass gear collection with 6 additional gear models that raise the bar once again in terms of unprecedented sonic authenticity.
When it comes to an iconic brand like Ampeg to put their mark on the software equivalent of their timeless masterpieces, they could not have gone for anything less than the best in the virtual software world and as they pioneered the bass amplification world they choose IK Multimedia, the true pioneers of amps and effects modeling technology for modern players.
Ampeg SVX recreates the sounds, operation and feel of the world's most influential line of bass amplifiers and brings it to your desktop.
You'll get the legendary sounds of the SVT-CL, the B-15, the 4Pro and BA500, all in a convenient lightweight and easy-to-use package. When you think Ampeg, you think huge stadium bass tone… the Rolling Stones '69 tour with the wall of SVT Classic Heads and 810 cabinets.
Ampeg SVX: 39.99 USD/EUR (regular 99.99 USD/EUR).
Ampeg SVX 2: 39.99 USD/EUR (regular 99.99 USD/EUR).
Ampeg SVX 1 & 2 Bundle: 59.99 USD/EUR (regular 149.99 USD/EUR).
The offer is valid through December 9th, 2019.
More information: IK Multimedia