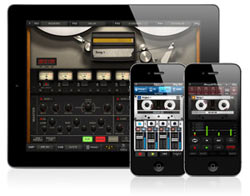 IK Multimedia has announced that AmpliTube, AmpliTube Fender, AmpliTube Slash, AmpliTube Jimi Hendrix and VocaLive users get 40% discount on the Recorder through in app purchase.
From now until November 14th, 2013 you can get the multi-track recorder inside your favorite guitar or vocal app for a great price. AmpliTube users can also save 40% on the Studio and Studio + Recorder in-app purchase as well.

Inside AmpliTube and VocaLive's multi-track recorder, you can use the handy "Apply FX" feature to subtly or radically change the sound of your recorded vocals and instruments without having to re-record them. Capture your ideas quickly by recording your performances with the built-in recorder featuring re-amping capabilities, then share your track by exporting high quality audio files or M4As – all in the convenience of your iPhone, iPod touch or iPad.
The limited time offer to get 40% off on a multi-track recorder expires November 14th, 2013.
More information: IK Multimedia