IK Multimedia has announced Happy New Gear, a limited time sale offering over 60% off 3 new All-In Bundles and 50% off regular IK titles.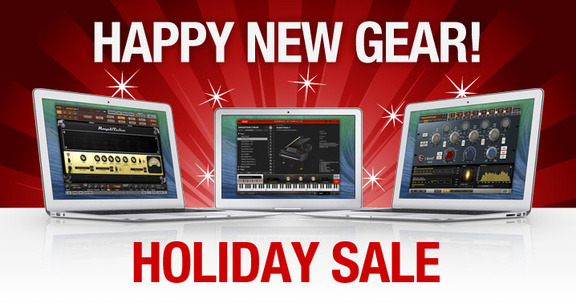 When it comes to the holidays, IK Multimedia is all about the spirit of giving. And that's why we've once again brought back our annual "Happy New Gear!" promotion.

From now until January 8, 2015, we're offering up some of the hottest deals of the year. Get great savings thanks to our All-In bundles that give you totally tricked-out versions of IK's powerful pro-level software favorites: Save up to 60% off the total price of AmpliTube, up to 67% off the total price of SampleTank and up to 70% off the total price of T-RackS! What's that mean in plain English? It means you can save HUGE this holiday season while picking up some of the most powerful music creation programs on the planet! No gimmicks, no tricks…just good honest deals for musicians, engineers, producers and anyone else who likes to make music. And that's not all; you can also get 50% off lots of regular IK software titles for the entire duration of the promotion!

No matter whether you're looking for a gift for the musician in your life (or getting something for yourself), IK has you covered with serious savings. It's just our way of saying, "Happy holidays from the IK 'Musicians First' Team!"
The sale ends January 8th, 2015.
More information: IK Multimedia