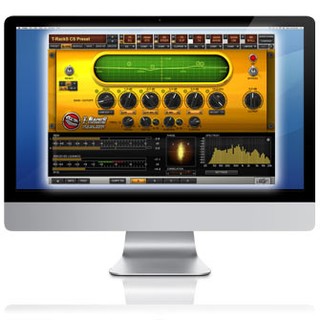 IK Multimedia has announced the launch of the T-RackS Custom Shop, the updated version 4.0 of its world-class mixing and mastering suite for Mac and PC.
Now T-RackS is even more powerful, with the new Custom Shop feature, which was originally introduced in our AmpliTube software. Custom Shop opens from within T-RackS, and lets you browse, audition, and purchase any processor in the T-RackS collection. It's like having a really cool vintage and cutting edge modern digital gear shop at your fingertips, 24/7.

On top of this, five new processors have been added to the T-RackS lineup, including the Quad Series of precision multiband units, and the British Channel, a meticulous emulation of the channel strip from a classic mixing desk. Black 76 and White 2A, vintage dynamics processors have been updated to make them even more authentic and hardware-like sounding.
T-RackS CS Bundle Collections
Classic – formerly T-RackS Standard, it includes the four original T-RackS processors: Classic Compressor, Classic Multi-band Limiter, Classic Clipper and Classic Equalizer, plus the metering suite.
Deluxe – includes everything in T-RackS CS Classic, plus Vintage Tube Compressor/Limiter Model 670, Vintage Tube Program Equalizer, Opto Compressor, Brickwall Limiter, and Linear Phase Equalizer.
Grand – includes everything in T-RackS CS Deluxe, plus seven additional processors: Quad Comp, Quad Limit, Quad Image, De-Esser, British Channel, Black 76 and White 2A. It provides the full collection of 16 T-RackS processors, featuring all the new modules released so far (not including CSR).
T-RackS CS Grand is available for $399.99/€319.99 (all prices ex. taxes), T-RackS CS Deluxe is priced at $199.99/€159.99 and T-RackS CS Classic at $79.99/€59.99.
Through January 7, 2013, a special 50%-off introductory upgrade price for T-RackS Grand is offered to users who've purchased any previous T-Racks Deluxe or Standard bundle, or single plug-in. These special upgrade prices start as low as $99.99/€79.99 and go up to $149.99/€119.99, depending on the version.
Credit Packs for purchasing à la carte models in the Custom Shop start as low as $19.99/€15.99, for 20 credits, and go up incrementally to $499.99/€399.99 for 1,000 credits. The cost for T-RackS processors inside the Custom Shop ranges from 40 to 120 Gear Credits each.
A free version of T-RackS Custom Shop is also available, including two fully functional modules (classic EQ and metering). It can be downloaded for free from the IK User Area upon registration.
More information: IK Multimedia