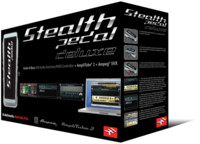 IK Multimedia has announced it is now shipping the StealthPedal, the world's first compact audio interface and MIDI controller housed in a wah-style pedal.
StealthPedal was designed specifically for guitar and bass players who are looking for an affordable, "high sound quality" way to connect their instrument to their computer, and control parameters of their software from the floor. Players can plug into the StealthPedal and immediately control the included "Powered by AmpliTube" software without additional setup. Plus, they can control ANY MIDI controllable software with the StealthPedal using the included StealthPedal MIDI setup application for Mac/PC.

Also, the StealthPedal will incorporate into an existing pedalboard setup utilizing only one pedal space, and adds the convenience and flexibility of computer based rigs to live performances.
StealthPedal features
USB powered audio interface:

24-bit A/D and D/A conversion.
44.1/48 kHz operation.
2 balanced / unbalanced audio inputs (hi-Z or line level).
High-quality, low-noise input stage (109dBA /104dB RMS S/N ratio).
2 balanced audio outputs.
Headphones output.

MIDI Controller:

Built-in assignable expression pedal and MIDI foot-switch.
External double switch and expression pedal inputs.
Assignable Volume control.
StealthPedal MIDI control software application included.

Multiple LEDs can operate as Tuner or Level indicators with AmpliTube.
Classic, rugged metal Wah-style construction.
Ships with a complete suite of guitar, bass & recording packages (including AmpliTube 2, Ampeg® SVX, AmpliTube X-GEAR, RiffWorks™ T4 Recording software, plus a collection of Sonic Reality Jam loops).
Controls all "Powered by AmpliTube" software/plug-ins.
Controls any MIDI controllable software/plug-ins.
Compatible with all the most popular DAW software supporting ASIO and Core Audio drivers on both PC and Mac.
StealthPedal is now available from dealers and distributors, and in the IK Multimedia online web store in two versions:
StealthPedal — MSRP: $269.99 USD / €199.99 EUR (price excludes taxes)
Includes StealthPedal, AmpliTube Live, Ampeg SVX Uno, AmpliTube X-GEAR, RiffWorks T4 and Sonic Reality Jam Loops.
StealthPedal Deluxe — MSRP: $449.99 USD / €349.99 EUR (price exclude taxes)
Includes StealthPedal, AmpliTube 2 Full Version, Ampeg SVX Full Version, AmpliTube X-GEAR, RiffWorks T4 and Sonic Reality Jam Loops.
Visit IK Multimedia for more information.