IK Multimedia has announced the Drum Anthology Libraries for UNO Drum, a free collection of PCM sounds from rare and vintage drum machines designed to expand the cutting-edge sound palette of the UNO Drum with new sounds that pay homage to the past.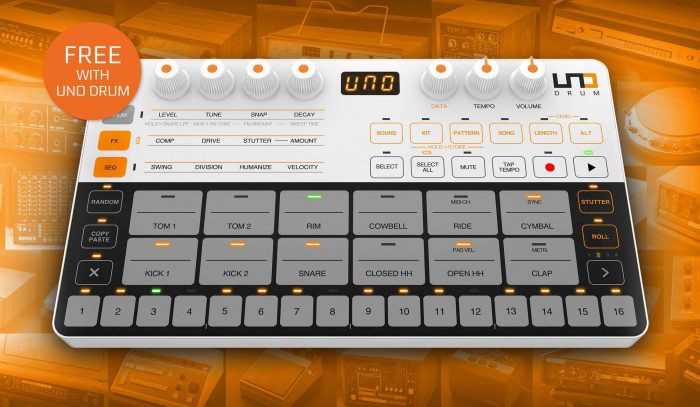 The collection includes sounds created using more than 40 drum machines from different eras – from drum machine predecessors of the 1960s, to modern machines from the 1990s and beyond.
The collection features 10 libraries that capture the iconic sounds of each original drum machine, organized by era and style. In addition, each library offers new enhancements derived from the sounds of a vintage 4-piece drum kit, for further tonal variety.

IK carefully studied each piece of gear to capture its most recognizable sounds, and then added new elements for even more flexibility and convenience. These are not 1:1 recreations; they are IK's homage to the classics.

Each library can be easily loaded into UNO Drum to deliver even more options in the studio or for live performances. They temporarily replace the factory-default sound set without overwriting stored kits and patterns, letting users experiment with different sounds for their existing grooves, or giving them fresh inspiration for new grooves.

Combined with UNO Drum's true analogue voices, the new Drum Anthology Libraries gives users an even more massive range of sonic options. And with UNO Drum's 100 onboard kits & patterns, plus the ability to store more on a Mac, PC and iPad with the UNO Drum Editor application, there's virtually no limit to the grooves users can create.
The Drum Anthology Libraries is available as a free download to UNO Drum users from their User Area at the IK Multimedia website.
More information: IK Multimedia