IK Multimedia is offering its acclaimed T-RackS Metering Suite at no charge to registered users of iLoud Micro Monitors ultra-compact, high quality reference studio monitors and iLoud MTM high-resolution compact studio monitors.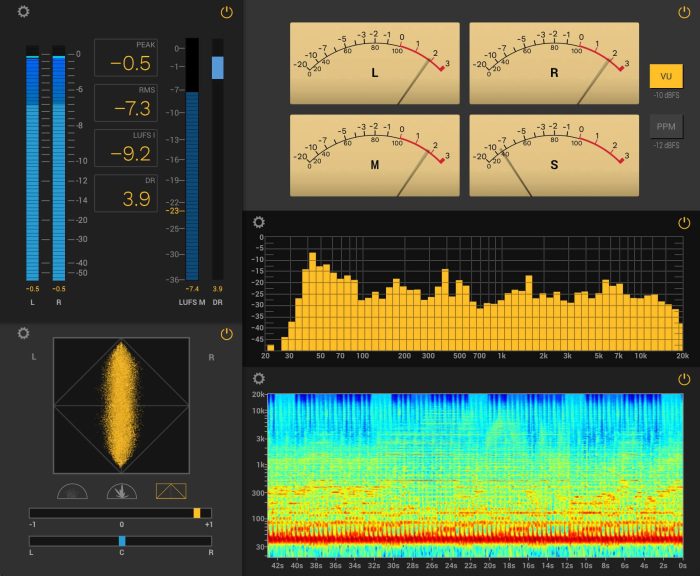 The suite is part of IK's industry standard T-RackS mixing and mastering software workstation, and offers a full range of metering tools that will enhance any type of recording, mixing or mastering work. Combined with the award-winning accuracy and precision of the iLoud range of studio monitors, users can now work even more quickly and easily to create professional tracks in any environment.

The Metering Suite provides complete visual feedback about audio creations to help users achieve professional results. The precision LUFS meter offers information about the loudness of an audio piece based on its final delivery method, from digital music, to broadcast, and everything in between. Peak, RMS and Dynamic Range meters offer feedback about the dynamic response of mixes. A timesaving Spectrogram detects frequency imbalances and phase issues before masters are finalized. VU/PPM meters provide a classic "needle style" visual, while similarly styled Mid-Side meters enable comparisons between mono and stereo content.

Offering several flexible user options, the suite is available as a resizable plug-in for all popular DAWs, or inside the T-RackS shell when being used for stand-alone mastering work.
A serial code for the T-RackS Metering Suite will automatically be added to each registered user's User Area on the IK website, and new users will receive an e-mail with instructions upon registering their iLoud Micro Monitor or iLoud MTM.
Existing users who have already registered one of these products can visit their User Area now to view their serial and download the installer.
More information: IK Multimedia