IK Multimedia has announced the release of the previously announced AmpliTube 4 for Windows and Mac, a powerful guitar and bass tone studio.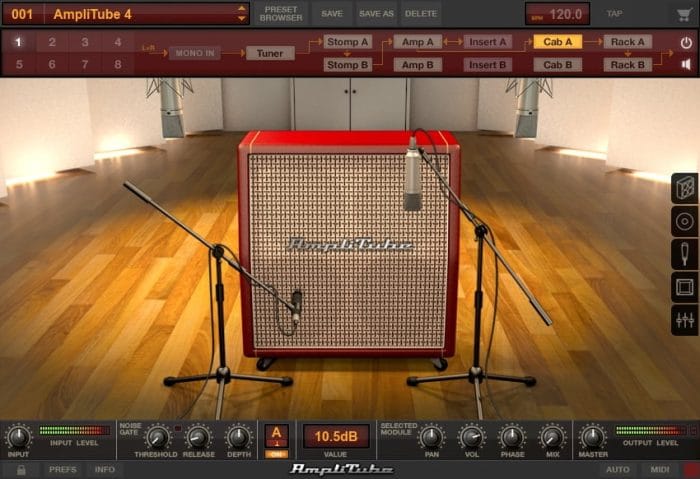 Offering exciting new features and gear, it marks a major upgrade to the world's most popular and powerful guitar & bass tone studio: It includes the most advanced speaker cabinet section ever developed, new speaker modeling, 5 new British amplifiers, a new acoustic simulator pedal, a built-in 8-track DAW and a whole lot more. AmpliTube 4 offers more realism, more gear, better sound, more flexibility, more functionality, more tone and just plain more everything than ever before – quite simply, it's the most powerful guitar & bass tone studio ever released. And there are now multiple versions that let musicians tailor their AmpliTube experience for their specific needs.

There are now 4 options for musicians to experience the tone sculpting power of AmpliTube 4:

AmpliTube 4 is the major expandable upgrade for existing users of all AmpliTube products as well as new users who want to experience all the cutting-edge features of the latest version of the ultimate guitar and bass tone studio. It comes with 9 amplifiers, 10 stompboxes, 10 cabinets, 29 vintage and modern speaker models, 3 microphones, 2 rack effects and 2 tuners. Players can restore all of their previously purchased gear models using the "restore my gear" feature in the AmpliTube Custom Shop.

AmpliTube 4 Deluxe takes the standard version of AmpliTube 4 and kicks it up a notch with over 100 pieces of additional gear that includes amplifiers, stompboxes, cabinets and more. This version is perfect for completely new users who want to jumpstart their inspiration with a massive spread of creative processing options to choose from.

AmpliTube Custom Shop is the free version of AmpliTube that's a great way to check out the ultimate guitar and bass tone studio. It lets users demo amps from the Custom Shop — all new features and gear are available via Custom Shop purchase.

And, for a limited time, in addition to these three versions, users can purchase the best of both new worlds, the AmpliTube 4 + AmpliTube MESA/Boogie® bundle. This special bundle lets musicians grab the two newest AmpliTube products for one seriously discounted price for a limited time. AmpliTube MESA/Boogie is the official collection of the iconic brand's most popular high-gain dream machines, all in one place. Players get official models of the Mark III, Mark IV, Dual and Triple Rectifiers and the TransAtlantic TA30.
AmpliTube 4 is available for 149.99 EUR/USD or 150 gear credits from the AmpliTube Custom Shop. AmpliTube 4 Deluxe costs 299.99 EUR/USD (or 300 gear credits) from the IK Online Store and Custom Shop, and in the United States it is exclusively available at retail from Sweetwater Sound.
For a limited time users can purchase a new bundle that contains AmpliTube 4 and AmpliTube MESA/Boogie as part of the AmpliTube Power Duo promo for 199.99 EUR/USD (or 200 gear credits), a savings of 100 EUR/USD off the combined retail price.
All prices excluding taxes.
More information: IK Multimedia