IK Multimedia's leading amp and effects modelling software takes a giant leap forward with the release of AmpliTube 5.
Accurately capturing the sound, feel and vibe of the world's most sought-after guitar and bass gear, the new AmpliTube 5 offers a massive increase in gear, features and flexibility.
In sync with this launch, IK Multimedia has also released a newly redesigned Custom Shop, letting users browse and discover new gear models à la carte, audition them and add them to their personal library faster than ever.
This new Custom Shop offers a refined, inspiring new look and feel for users of IK's AmpliTube, T-RackS, and SampleTank programs, and is particularly useful in exploring the now over 400 gear models available for AmpliTube 5.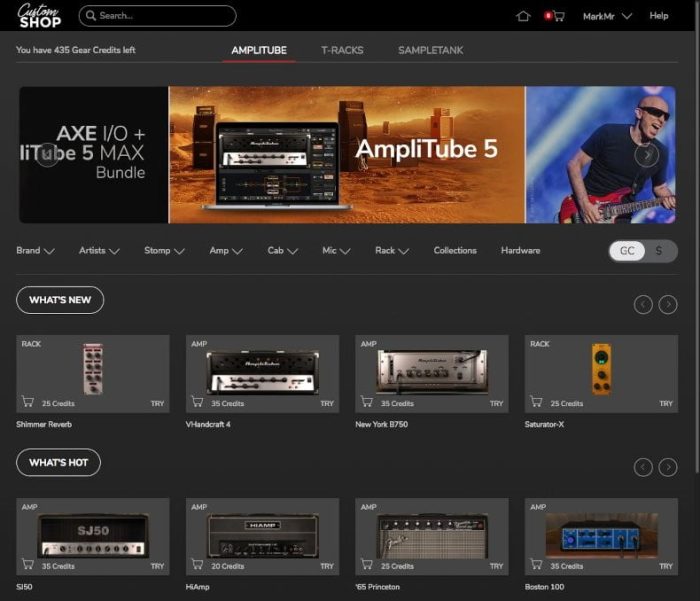 With 129 new gear models, AmpliTube 5 also offers an all-new cabinet section with completely re-captured cabinets, and improved power amp/speaker cab interaction for dramatically improved sonic authenticity.
An all-new, resizeable interface makes building and routing rigs a breeze, with improved gear selection, drag & drop placement, and support for one-, two- or three-amp rigs with up to 57 simultaneous effects.
AmpliTube's popular 8-channel DAW now boasts a new mixer window and a selection of effects derived from IK's award-winning T-RackS 5 to easily craft professionally polished, "just-like-the-album" tones, and an enhanced Looper now offers 2 simultaneous tracks and infinite layers of sound.
AmpliTube 5 can work both as a desktop app and plug-in for any DAW, and it's available in four versions:
AmpliTube 5 CS: free.
AmpliTube 5 SE: 99.99 USD/EUR (regular 149.99 USD/EUR).
AmpliTube 5: 199.99 USD/EUR (regular 299.99 USD/EUR).
AmpliTube 5 MAX: 399.99 USD/EUR (regular 599.99 USD/EUR).
Existing customers who have registered any IK product for 99 USD/EUR or more can upgrade to AmpliTube 5 for the 149.99 USD/EUR intro price or AmpliTube 5 MAX for the 299.99 USD/EUR intro price.
Special bundle pricing including AXE I/O, AXE I/O Solo, iRig Stomp I/O, Z-TONE Buffer Boost and Z-TONE DI is available through December 31st, 2020.
All prices excluding taxes.
In addition, any customer who purchased AmpliTube 4 or received it as part of a bundle after October 15th, 2020, will automatically receive an upgrade to AmpliTube 5 SE.
More information: IK Multimedia