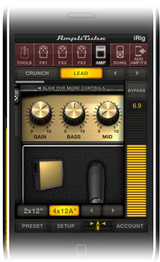 IK Multimedia has announced the release of AmpliTube for iPhone, the ultimate mobile guitar amp and effects system for iPhone/iPod Touch/iPad.
Together with the iRig interface adapter this represents the first complete solution for guitar and bass players to play, practice, and have fun anytime and everywhere rocking through their iPhone. The combination of AmpliTube mobile app and iRig accessory adapter is called AmpliTube® iRig™, the cutting edge system for the portable guitar and bass multi-effects of the future.

At the core of the AmpliTube iRig is AmpliTube for iPhone, developed by IK Multimedia, the leader in gear modeling for professional studios, to get the most accurate tone from your iPhone. AmpliTube for iPhone gives you incredible, ultra-realistic sound and functionality in a convenient mobile app with 3 simultaneous stompbox effects, an amp-head plus cabinet and a microphone, offering more power than traditional pocket-size guitar effect processors!
AmpliTube for iPhone features
Real time guitar and bass mobile multi-FX app.
Full rig made from 3 simultaneous stompboxes + amp + cabinet + mic.
10 Stomps, 5 Amps, 5 Cabinets, 2 Mics available.
Import and play along with songs and backing tracks with real time effects.
36 presets can be saved/recalled on the fly.
Includes tuner/metronome.
Free, LE and Full versions available.
Free and LE versions expandable with a-la-carte downloadable gear.
AmpliTube for iPhone is now available from the iTunes App store in 3 versions:
AmpliTube Free: 3 stompboxes, 1 amp+cabinet, 2 microphones
AmpliTube LE: 5 stompboxes, 1 amplifier + cabinet, 2 microphones – $2.99/€2.39
AmpliTube: 11 stompboxes, 5 amps + cabinets, 2 microphones – $19.99/€15.99
More gear can be added to FREE and LE versions through in-app purchase of a-la-carte models with stompboxes costing $2.99/€2.39 each and amplifiers + cabinets for $4.99/€3.99 each.
Pre-orders for the iRig interface adapter are already available through IK Selected Dealers and from the IK online Store for $39.99/€29.99 MSRP (excluding taxes). iRig will start shipping worldwide the first week of July, 2010.
More information: IK Multimedia