IK Multimedia has announced the release of the AmpliTube MESA/Boogie app for iPhone and iPad, a close collaboration between IK Multimedia and the R&D Team at Mesa Engineering that lets musicians process their guitar or bass tone with some of the boutique manufacturer's most iconic amplifiers and cabinets.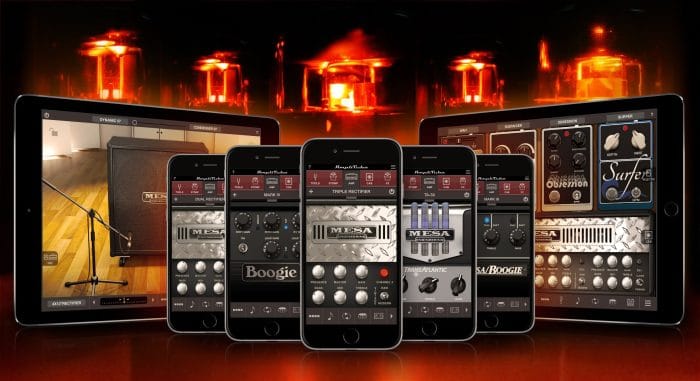 AmpliTube MESA/Boogie gives guitarists, producers, engineers and more the power to play through models of some of MESA/Boogie's most famous genre-defining amplifiers and cabinets. These exciting co-developed models deliver everything from the gorgeous clean sounds, percussive aggression and tight crunch of the Dual Rectifier and Triple Rectifier to the violin-like sustain of the MARK III and MARK IV to the ultra-flexible mid-gain British leanings of the TransAtlantic TA-30.

Like all AmpliTube virtual gear, these models have been carefully crafted to sound, look and perform as close to their hardware counterparts as possible. Each model has been examined and approved by the R&D Team at Mesa Engineering. In addition to the MESA/Boogie gear, AmpliTube MESA/Boogie also comes with 6 versatile stompboxes that let guitar and bass players build and play with their dream MESA/Boogie tone rig anytime and anywhere. AmpliTube MESA/Boogie also offers players a complete lineup of extreme mobile usefulness: there's a built-in single track recorder that's expandable up to 8 tracks with full waveform editing, a built-in drummer, an optional 4-track looper, a tuner, metronome, preset browsing system and more.
AmpliTube MESA/Boogie for iPhone & iPad is available for purchase from the App Store for 24.99 EUR/USD. Additionally, AmpliTube MESA/Boogie models are available as in-app purchases inside of AmpliTube for iPhone and AmpliTube for iPad as a complete gear bundle for 24.99 EUR/USD, or 9.99 EUR/USD for individual amps and 2.99 EUR/USD for individual stomps.
More information: IK Multimedia