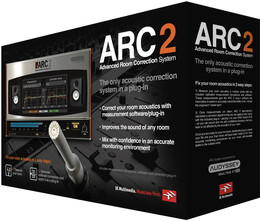 IK Multimedia has announced the release of ARC 2, an update for the acoustic correction system that combines a measurement microphone, measurement software and a correction plug-in for most popular DAWs to improve the acoustics and sonic reliability of your studio.
ARC works by measuring your room using the included measurement microphone and measurement software and then generates an algorithm to provide a correction of your room's acoustic problems that you can apply to your mix using the included plug-in.

You can record and mix with confidence knowing that what you hear from your speakers is a faithful representation of how your music will translate to the outside world.
New in ARC 2
Completely redesigned interface for improved usability.
4X greater resolution improves critical low-end response.
Smoother, more natural sound in the mid-range and high frequencies.
New combined L/R correction option maintains focus in perfectly symmetrical control rooms.
New customizable target curves now can match engineers' personal timbre tastes.
New "Alt References" templates mimic the sound of consumer listening devices like car systems, speaker boxes, etc. allowing the engineer to test how mixes translate on different systems.
New Monitor Control panel interface streamlines workflow.
Fewer measurements now provide higher quality results and shortens set-up time.
Measurements can be saved and used for multiple correction set-ups.
ARC 2 is available to purchase for $299.99 USD / €249.99 EUR. Registered ARC users can update to ARC 2 for the introductory price of $99.99 USD / €84.99 EUR until August 31, 2012 (regular $149.99 USD / €124.99 EUR). Prices exc. taxes.
More information: IK Multimedia