IK Multimedia has announced a variety of major releases for its acclaimed SampleTank 4, the newest generation of IK's sound and groove workstation that offers professional-quality sounds, an intuitive interface and powerful editing and effects for musicians and producers.
The new SampleTank 4 Custom Shop is a free download for Windows and Mac that offers a powerful introduction to SampleTank 4, with more than 4 GB of professional-quality sounds plus editing and effects, with all the features of the full software.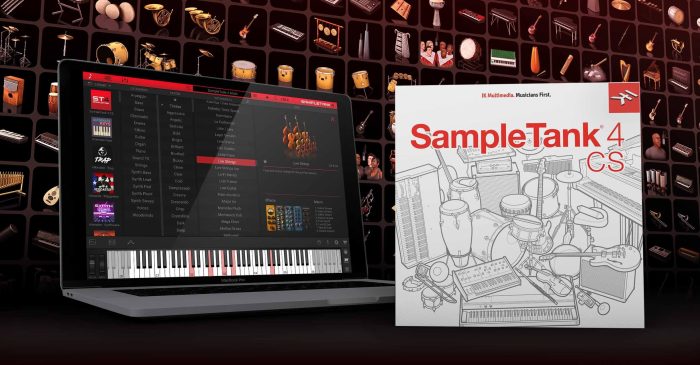 Users can take advantage of its many instruments and MIDI grooves to quickly and easily write songs and create tracks, then add effects, mix, and more.
SampleTank 4 CS features
50 Instruments, with over 4 GB of sound content.
Comprehensive library; expandable with additional libraries.
200 MIDI grooves to build tracks quickly.
Works as a plug-in or as stand-alone software.
Like all versions of SampleTank 4, SampleTank 4 CS also offers a re-designed sound engine with disk streaming; four Groove Players to animate sounds; a mixer with 70 effects, FX sends and master bus. SampleTank 4 CS is available for direct download from the IK Multimedia website.
For those looking to bring their own sounds into SampleTank 4, the new SampleTank Editor is a free public beta sample import/programming tool that can be used to create new SampleTank 4 Instruments and Libraries.
A streamlined, tab-based interface guides users through the process of constructing SampleTank Instruments – from the sample level all the way to the master Instrument. Instruments can be combined to create full Libraries.
The editor enables users to:
Import and auto-map samples into SampleTank format.
Edit and adjust Zones and Oscillators.
Import custom icons and add descriptions and tags.
Export creations as SampleTank 4 Instruments and Libraries.
The editor is available to registered users of any paid version of SampleTank 4, and can be downloaded from User Area on the IK Multimedia website.
Also available are six new SampleTank Libraries in the expansion library series.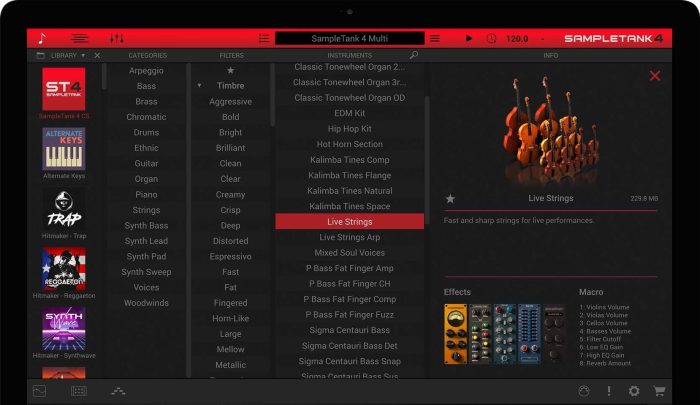 The libraries include a wide selection of instrument types, ranging from drum loops to robotic sci-fi synths, inspiring diverse musical styles including funk, reggaeton, pop, indie rock, and more.
The following titles are now available:
L.A. Confidential – grooves from top L.A. session drummers.
Alternate Keys – fresh chromatic instruments.
Clavitube – funky, vibey, amped clavinets.
Hitmaker Series:

Reggaeton – track-ready, tropical-inspired reggaeton sounds and grooves.
Synthwave – vintage analogue tones with a futuristic twist.
Trap – hard-hitting sounds and grooves.
The instrument libraries are available from the IK Multimedia online store starting from 49.99 USD/EUR excluding taxes.
More information: IK Multimedia