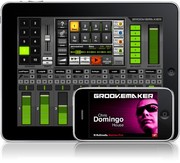 IK Multimedia has announced the release of GrooveMaker Chris Domingo House, a new artist-created GrooveMaker® app for iPhone/iPod Touch/iPad, played and composed by veteran of progressive house music, Chris Domingo.
For making today's hot underground club songs, DJs need the most current and up-to-date tech beats to inspire those bodies moving on the dance floor. GrooveMaker Chris Domingo House has the elements to create progressive tech house, and from the very first kick drum and bass line, any iPhone, iPod Touch and iPad user will be able to match well with what the DJs are currently rocking on the decks. With GrooveMaker Chris Domingo House, choose from killer percussion, dreamy or dark atmospheric pads and chords, techy house drumbeats and FX, monstrous kicks, and bouncy melodic lead lines that blend perfectly.

With nearly 1 million downloads since its August release, GrooveMaker has become the top loop remixing application for the iPhone, iPod Touch and now the iPad, allowing any user to create professional, full-length songs in minutes, with its unique combination of advanced remixing software and high-quality included loops' sound content.
GrooveMaker Chris Domingo House features
Instantaneous control over 8 stereo loop tracks.
Play, Mix and Randomize loops on the fly.
Combine studio-quality loops to produce millions of possible grooves.
Manipulate loops in real time (pan, volume, mute, solo, group, tempo).
Arrange grooves easily with drag and drop to create full-length tracks.
Save, preview and recall mixed tracks.
Upload tracks as hi-quality .WAV file to your Mac/PC (Wi-Fi network required).
Interactive Help allows quick learning simply by following the indicated steps.
Included sound features:

Massive loops library of drums, bass, bass-drums, lines, pads, percussion, effects.
Progressive Tech House style.
3 included songs + 1 FREE song when you register.
252 loops.
127, 128, 128,125 BPM.
165 MB of samples.
GrooveMaker Chris Domingo House for the iPhone and iPod Touch is available in the Apple iTunes App Store for $7.99 USD/5.99 EUR. The iPad version is $9.99 USD/7.99 EUR.
More information: IK Multimedia