IK Multimedia has announced the release of Orchestral Percussion, the master percussion add-on instrument collection for Miroslav Philharmonik 2 and SampleTank 3 that contains over 45 symphonic percussion instruments, 3GB of sample content, more than 400 audio loops and over 100 MIDI files.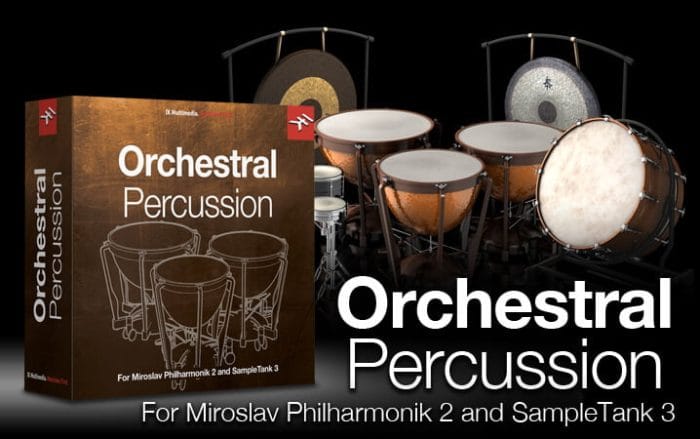 Orchestral Percussion takes traditional percussion instruments to a whole new level of realism, playability and audio quality. Users will get the majesty of full-range, dynamic timpani, the stirring power of a massive 36″ gran cassa orchestral bass drum, the unmistakable punctuation of symphonic chau gongs and piatti cymbals. Also included are the ultra-stylized articulations of three different classical snare drums along with flexible variations of sleighbells, tambourines, triangles, castanets, bell tree and more, performed with multiple round robins and recorded with pristine audio fidelity.

Orchestral Percussion is the sequel to IK's much-acclaimed Cinematic Percussion Instrument Collection that is now being used on film, TV and pop productions the world over. Specific instruments were chosen for Orchestral Percussion to perfectly complement the Cinematic Percussion set with no redundancy or overlap. Like Cinematic Percussion, IK again enlisted master percussionist Greg Ellis, known for his work on countless Hollywood blockbuster films, to perform the more traditional classical instruments of the Orchestral Percussion Instrument Collection. Musicians should use the two collections together for an unrivaled treasure chest of percussion resources.
Orchestral Percussion for Miroslav Philharmonik 2 and SampleTank 3 is available for purchase for 99.99 USD/EUR (excl. taxes).
More information: IK Multimedia